RFE/RL: Many in the West had great expectations for democratization in Central Asia after the breakup of the Soviet Union. What was the state of the media in the region in 2006?
Joel Simon: Central Asia is a place where information has unfortunately become increasingly scarce. Not too long ago, Turkmenistan stood out as a "black hole," and in fact Turkmenistan was named as one of CPJ's 10 most-censored countries in the world last year. However, Uzbekistan has been closing quickly, and the crackdown that began in the aftermath of the [May 2005] Andijon massacre has really turned Uzbekistan into a place where information of any kind is hard to come by. The independent press corps that existed there has been dismantled, is in exile. So clearly the trend in Central Asia is toward greater restrictions, and we're very troubled by that.
RFE/RL: Can you be more specific? For example, Kazakhstan's economy has been growing, and Kyrgyzstan has had a change of government that followed a pro-democracy uprising. How are these two countries faring?
Simon: Kazakhstan is a place where there is some potential to report on what's happening there -- obviously it's experiencing an economic boom -- but there are serious and severe restrictions and limitations on the press. And in Kyrgyzstan, the hope in the aftermath of the democratic uprising there that media would become freer -- that's only partially taken place, and in fact I think that the general rule there that media is constrained still holds.
RFE/RL: There also have been pro-democracy uprisings in Ukraine and Georgia. How have the media fared in these two countries?
Simon: The media is freer and more vigorous and more open in all of those three places [Kyrgyzstan, Ukraine, and Georgia]. But yet the perception exists that because of these democratic revolutions, the media now operates without constraint, and that's just not the case. The level of restrictions varies from country to country. I think Georgia and Ukraine -- more reforms have been implemented [in these two countries] than in Kyrgyzstan. But all three countries have not gone far enough in implementing the kinds of reforms that would truly limit the government's ability to control and influence the media.
RFE/RL: Has there been any advance in press freedoms in Belarus in the past year?
Simon:
Not much. Unfortunately we don't have a lot of news from Belarus. Belarus is another country where it's really a black hole when it comes to information. We carried out a mission to Belarus in January [2006] in advance of the [March presidential] election there, and unfortunately conditions were so constrained in Belarus that we weren't even able to hold a press conference to announce our findings. We held that in Moscow because we didn't think the Belarusian press would even be able to cover our findings. So it is a place where the press -- the extremely limited independent press that exists in Belarus -- operates under enormous pressure and constraints, and that has not changed.
RFE/RL: Regarding Russia, U.S. President George W. Bush, who says he admires Russian President Vladimir Putin, has cited Moscow's slow pace of reform. Are you concerned too?
Simon: Russia is a very different situation. I recently returned from Russia. I was there earlier this month, and we had some very good meetings with government representatives. And in one of those meetings with the Foreign Ministry we discussed Russia's terrible record of impunity: 13 journalists have been murdered in Russia since Putin came to power [in 2000]. None of those cases have been adequately investigated. And we spoke specifically about the Anna Politkovskaya case, and we were told that the Prosecutor-General's Office had determined that one of the possible motives for Anna Politkovskaya's murder was linked to her work, and that several police officials in Chechnya were being investigated. And we announced that at our press conference. And the Foreign Ministry subsequently retracted part of what they'd said [during the private meeting], but I think what's become clear is that an investigation is under way. There appears to be some progress; certainly links to Chechnya are being explored.
RFE/RL: And are there encouraging signs in this picture -- that the message that journalists must be protected is somehow being heard?
Simon: We were very pleased that President Putin in his [February 2] press conference for the first time acknowledged publicly the vital role that journalists play in Russia. [Putin] pledged to provide greater protection; and specifically described Anna Politkovskaya as a critical journalist, and he said that that was good. So we're encouraged by those signals and hopeful that a full and vigorous investigation into the Politkovskaya murder -- and all these murders -- will take place, and that the perpetrators of these terrible crimes will be brought to justice.
RFE/RL: Your report prominently cites the journalists killed in the Iraq war during 2006. Why so many?
Simon: One of the most disconcerting statistics that we documented this year was in Iraq, where 32 journalists were killed. That is the single highest number we've ever recorded for one country in a year. So obviously that's an unprecedented record of violence against journalists. And journalists in Iraq face danger from all sides.
RFE/RL: Who is targeting the journalists?
Simon:
They are targeted by insurgent groups; they face violence from paramilitary forces linked to the government; U.S. forces have been responsible for detentions of journalists and harassment of journalists; and journalists have been killed by U.S. forces on a number of occasions in crossfire incidents, incidents that have not been adequately investigated. So there's a record of violence that is unprecedented in Iraq. It is truly the most dangerous country for journalists in the world.
RFE/RL: Then there's Iran, next door. On the one hand, it's the most advanced democracy in the Middle East outside Israel. On the other, there have been complaints about government pressure on the media there. What did you find?
Simon: The situation in Iran -- there the risk by and large is not violence but government persecution, and the government of Iran is fairly sophisticated in the way in which it controls and restricts the work of the press. Not too long ago, when there was a vibrant press movement, journalists were being jailed. Now the press is more constrained and fewer journalists are being jailed. How is that possible? Because Iran has implemented a kind of revolving door. Journalists are detained for brief periods, they're released, they're pressured, they're harassed, they face legal persecution, and it creates an environment in which the exercise of independent journalism is all but impossible. And that's the reality in Iran today.
RFE/RL: Iraq isn't the only place where journalists are killed. But these other countries aren't war zones. What kind of physical violence do reporters face?
Simon: Russia and the Philippines and, to a certain extent, Colombia -- places where there's conflict, but it's more isolated -- these are places where impunity is perhaps the common thread. These are all places in which journalists have been killed by violent groups, criminal groups, and the government authorities have not been able -- or willing -- to fully investigate these crimes. And in all of these countries it creates an environment that perpetuates violence. This environment fuels self-censorship and ultimately deprives the public of information.
Remembering Anna Politkovskaya
Remembering Anna Politkovskaya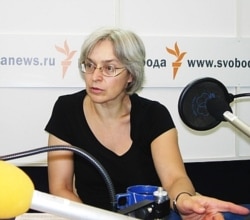 Anna Politkovskaya at RFE/RL in July 2006 (RFE/RL)
A BRAVE VOICE SILENCED. Prominent Russian journalist Anna Politkovskaya was killed on October 7 in her Moscow apartment building. An outspoken critic of the Kremlin, she was best-known for her reporting on the conflict in Chechnya. Former Soviet President Gorbachev called her slaying "a true political homicide, a vendetta."
Chechens Mourn Politkovskaya As 'Last Hope'
Politkovskaya Investigating Chechen Torture At Time Of Death
Two Journalists Die In Contract Killings A Year
SUBSCRIBE
For regular news and analysis on media issues throughout RFE/RL's broadcast area by e-mail,
subscribe to "RFE/RL Media Matters."