The Committee to Protect Journalists (CPJ) said in a statement that a succession of Kazakh printing houses have refused to print the newspaper, in some cases after officials warned the printing houses not to do so.
The CPJ said since December "Uralskaya nedelya" has signed contracts with four separate printing houses, only to receive notice several days later that the newspaper could not be printed.
According to the CPJ statement, the printing house with which "Uralskaya nedelya" signed its most recent contract, Ak Zhaiyk, is printing the newspaper despite the fact that "an official called Ak Zhaiyk and warned its management not to print 'Uralskaya nedelya.'"
(with material from AP)
Kazakhstan And The OSCE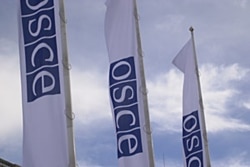 READY TO LEAD THE OSCE? Kazakhstan has been lobbying to be granted the rotating chair of the Organization for Security and Cooperation in Europe (OSCE) in 2009. In March, current OSCE head Karel De Gucht visited the country and said Kazakhstan is better prepared to head the OSCE than any other Central Asian country. But concerns about the state of democracy, the media, and ethnic relations make Kazakhstan's bid extremely controversial....(more)
RELATED ARTICLES
OSCE Says Kazakh Presidential Vote Flawed
OSCE Says Kazakh Obligations Not Met Ahead Of Vote
OSCE Offers Amendments To Kazakhstan's Draft Media Law
ARCHIVE
RFE/RL's
coverage of Kazakhstan
. The website of
RFE/RL's Kazakh Service
.