On January 30, a Baku court sentenced Faramaz Novruzoglu, a reporter from the "Nota Bene" newspaper, to two years in prison for slandering the country's interior minister and another senior official.
Sardar Alibeyli, the newspaper's editor in chief, received a suspended sentence of 1 1/2 years.
Novruzoglu had published an article criticizing Interior Minister Colonel General Ramil Usubov of damaging the reputation of the police force.
The OSCE criticized the sentences as another blow to media freedom.
Robin Seaword, acting head of the OSCE office in Baku, said unless the country's libel law was changed journalists will in Azerbaijan continue to be threatened with prison which will prevent them from reporting critically on matters of public concern.
(with material from AP)
Human Rights In Azerbaijan
Human Rights In Azerbaijan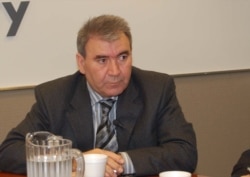 Azerbaijani parliamentarian and historian Jamil Hasanli speaking at RFE/RL on November 29 (RFE/RL)

THE CURSE OF OIL. On November 29, RFE/RL's Washington office hosted a briefing on democratic development in Azerbaijan. The briefing featured liberal opposition lawmaker Jamil Hasanli and former political prisoner and activist Murad Sadaddinov. The two men discussed the international commitments Azerbaijan has made in the area of human rights in order to secure investment in its energy sector and offer advice as to how the international community should deal with Baku.
LISTEN
Listen to the entire briefing (about 90 minutes):

Real Audio
Windows Media
RELATED ARTICLES
Authorities Intensify Pressure On Independent Media
Azerbaijan: Coping With The Oil Windfall
EU Taking Note Of Baku's Strength
Azeri Journalist's Prison Sentence Denounced As Political
ARCHIVE
RFE/RL's English-language coverage of
Azerbaijan
.
SUBSCRIBE
For a regular review of civil-society developments throughout RFE/RL's broadcast region,
subscribe to "RFE/RL (Un)Civil Societies."