Azerbaijani Journalists Facing Detention For 'Insulting' Islam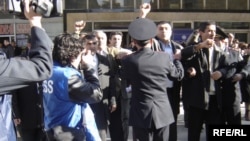 Police move in to break up the protest rally in support of the independent media in central Baku (RFE/RL) November 16, 2006 -- An Azerbaijani court has given police the right to detain two journalists for two months for publishing an article allegedly insulting Islam.
The article, in the "Sanat" newspaper, said Islam was blocking development and that the Prophet Muhammad had created only problems for Eastern countries.
The publication prompted protests in Nardaran, a stronghold of conservative Islamic values north of Baku, where residents threatened to kill its author.
The court on November 15 ruled the two journalists could he held for up to two months in custody while the case was investigated.
In related news, Azerbaijani police on November 16 broke up an opposition rally demanding an end to pressure against independent media.
Several dozen activists of the opposition Popular Front of Azerbaijan gathered at the entrance to a central subway station in Baku, chanting "Azadliq!"(Freedom).
"Azadliq" is also the name of Azerbaijan's most popular opposition newspaper, which the authorities are threatening to evict from its offices in Baku.
Police detained four activists at the rally.
(Turan, day.az, ITAR-TASS, AP, Interfax)