Six Azerbaijani Oppositionists Go On Hunger Strike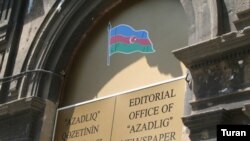 Editorial offices of 'Azadliq' in Baku (file photo) (Turan) BAKU, October 30, 2006 (RFE/RL) -- Six activists of the Azerbaijani Azadliq (Liberty) party have begun a hunger strike in the headquarters of the opposition newspaper of the same name.
The activists are demanding that the authorities stop repressing the free media, especially "Azadliq."

Presidential-administration official Ali Hasanov told RFE/RL's Azerbaijani Service that the opposition has to use other, less radical means in their activities.

"It is absolutely impossible" to achieve something through hunger strikes, he said. "Azerbaijan is a country ruled by law. You can do everything legally, not through political means or just by making a political show."

The activists say they will continue the hunger strike until their demands are met.