RFE/RL correspondent Eugen Tomiuc talked to Elsa Vidal, from RSF's European and post-Soviet countries desk about the situation in Central Asia, Russia, Belarus, and the South Caucasus.
RFE/RL: Your report says the situation has not improved in 2006 in Central Asia. It cites Uzbekistan for maintaining pressure on independent local and foreign media, and says the Kazakh government has stepped up legal harassment of opposition media. But it singles out Turkmenistan as having "the world's worst press freedom record along with North Korea." Could you outline the general situation of media freedom in Central Asia?

For regular news and analysis on media issues throughout RFE/RL's broadcast area by e-mail,
subscribe to "RFE/RL Media Matters."
Elza Vidal: Our most worrying topic in Central Asia is definitely Turkmenistan. Since [President Saparmurat] Niazov's death [in December 2006], we hope for a liberalization of the regime with the upcoming election [on February 19], but until now, there haven't been any concrete steps taken in that direction. We lost one journalist last year in Turkmenistan [RFE/RL correspondent Ogulsapar Muradova, who died in prison in September 2006], but we also have got no news from two other colleagues of Ogulsapar Muradova who were arrested and convicted in the same trial last August. As we have no news from them we are pretty worried and fearing that the worst has happened to them.
RFE/RL: How about Uzbekistan?
Vidal: In Uzbekistan we have seen the disappearance of almost all foreign media on Uzbek soil, and we know that most of the human rights defenders are forced to work clandestinely. Very recently, we have also learned about the arrest of an opposition journalist, a prominent journalist [Umida] Niyazova, and it's unfortunately not the first -- and we are quite convinced that it won't be the last, to be arrested under false reasons.
RFE/RL: Your report calls the situation in Russia "grim," and highlights the killing of journalist Anna Politkovskaya. It also says that in Belarus, more pressure was put on media outlets offering a voice to, or even mentioning the existence of, the political opposition. How much worse is the situation in these countries compared to previous years?
Vidal: What we have seen in Russia and Belarus is a tightening grip on the administrative and financial means of media control. Of course, there has also been a burst of violence in Russia against journalists -- three of them were murdered last year, including, of course, Anna Politkovskaya. But in Russia we are most worried about the spreading of violence in all society -- a trend that affects also the security of journalists. But [both] in Belarus and in Russia, we have seen last year an attempt to get firm control on the all the means of production and distribution of newspapers and of all the free press.
RFE/RL: In the Caucasus, your report singles out Azerbaijan, where it says that 2006 was a "dark year" for the media. Could you explain why?
Vidal: The main problems [in the Caucasus] are, from our point of view, in Azerbaijan. Although the country experiences a real economic boom, we know that in Azerbaijan this tremendous growth doesn't benefit the free press, and there has been a real temptation on the side of [President Ilham] Aliyev to silence the opposition and the press that is linked to this opposition. But what we want to underline in Azerbaijan is also that there is a growing use of abduction and aggression against journalists that are mainly investigating corruption cases.
RFE/RL: How about neighboring Armenia?
Vidal: Armenia is far less violent for journalists compared with Azerbaijan, and the problems that we have witnessed are much more linked to the difficulty for some journalists to raise geopolitical problems, so it is much more a problem of censorship. It is worrying, but compared with Azerbaijan, it is really not on the same level.
Press Under Assault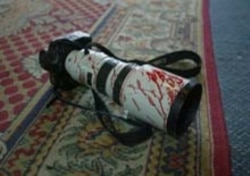 (AFP)
BREAKING THE NEWS: Press freedom is under assault in virtually all of the countries of the former Soviet Union. Independent media confront enormous challenges in providing citizens with the independent information that can help advance democratic reforms. On May 2, RFE/RL's Washington office hosted a roundtable briefing that gave an overview of media developments in the CIS and discussed the connections between press freedom and future democratization. The briefing featured Freedom House Director of Studies CHRISTOPHER WALKER, American University Associate Research Professor ROBERT ORTTUNG, and RFE/RL Central Asia analyst DANIEL KIMMAGE.
LISTEN
Listen to the entire briefing (about 90 minutes):
Real Audio Windows Media
RFE/RL's Press Freedom Day stories:
Iraq: Covering The Most Dangerous Beat On Earth
Afghanistan: Women In Journalism Battle Restrictions, Threats
Iran: State Maintains Tight Control Over Information
CIS: Press Freedom In Former Soviet Union Under Assault
Central Asia: Bureaucratic Obstacles Hinder Journalists
Central Asia: Governments Wary Of Independent Media
Central Asia: Journalists Still Face Harassment, Threats

THE COMPLETE STORY: To view an archive of RFE/RL's coverage of media-related stories, click here.
SUBSCRIBE
For regular news and analysis on media issues throughout RFE/RL's broadcast area by e-mail,
subscribe to "RFE/RL Media Matters."