Uzeir Jafarov, editor of "Realny Azerbaijan" (Real Azerbaijan), said his paper and "Gyundelik Azerbaycan" (Azerbaijan Daily) would challenge the closure in court. He called the closure an attempt to stifle media criticism.
Last month, a Baku court sentenced "Realny Azerbaijan's" founder, Eynulla Fatullayev, to 30 months in prison for defaming the armed forces. Shortly after testifying in court in Fatullayev's defense, Jafarov was attacked and badly beaten.
At least seven journalists are now in prison in Azerbaijan. Rights groups have warned that Azerbaijani journalists who criticize the authorities or expose corruption face a growing risk of arrest or reprisal attacks.
(Reuters)

World Press Freedom Day
NOT REALLY SO FUNNY:
The Paris-based World Association of Newspapers asked French cartoonist Michel Cambon to produce a series of cartoons on the theme of jailed journalists to mark World Press Freedom Day (May 3). Below, RFE/RL reproduces several of Cambon's cartoons.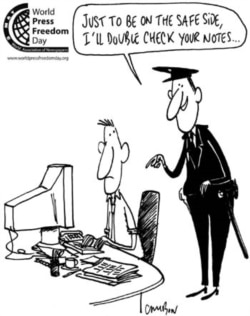 (WAN/Cambon)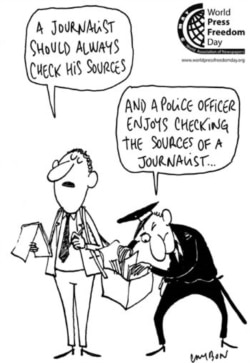 (WAN/Cambon)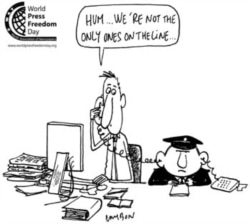 (WAN/Cambon)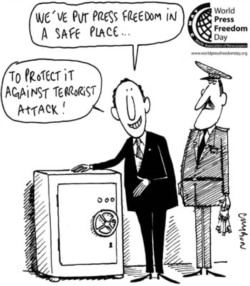 (WAN/Cambon)



RELATED ARTICLES
Threats To Press Freedom Growing More Severe
CIS Press Freedom Suffers Continued Decline
Pressure Mounting On Russian Opposition, Media
Uzbek Government Increases Its Blocking Of News Websites
ARCHIVE
To view an archive of RFE/RL's coverage of media-related stories, click here.
SUBSCRIBE
For regular news and analysis on media issues throughout RFE/RL's broadcast area by e-mail,
subscribe to "RFE/RL Media Matters."