Conference co-host Jose Maria Aznar, former prime minister of Spain (1996-2004) and now executive president of the Foundation for Social Studies and Analysis (FAES), a Madrid-based think tank linked to Spain's center-right Popular Party, spoke with RFE/RL correspondent Jeffrey Donovan about how Western governments can do more to support dissident movements against repressive governments.
RFE/RL:
Mr. Aznar, you are here to discuss the role of dissidents in world societies under dictatorships. In your opinion, is the European Union doing enough to support dissidents, for example in the region of the former Soviet Union?
Jose Maria Aznar:
The answer to your question is no. I think that Europe has to do more things with more strength, with more determination [to support] different dissidents in different parts of, different places in, the world.
RFE/RL:
Which countries right now should be the focus of support for democratic civil-society movements for dissidents? What are the key countries, for the European Union?

Aznar:
Well, all the European Union should make a new job in this direction, but the European Union should have the responsibility to have present every day the situation of dissidents in different parts of the world: China, Cuba, Venezuela, Iran, and different parts of the Middle East.
It is our responsibility. All dialogue with authoritarian regimes should pass through the situation of dissidents, to defend the rights of dissidents, to defend human rights, to defend free speech and free activities for the people. I should [think] that the European Union can be more decisive in the question.

RFE/RL:
During the Cold War, dissidents in the Soviet Union played an important role in maintaining the hope for freedom and for democracy. Here today in the conference is Garry Kasparov and of course he's one of the opposition leaders in Russia. Do you think, given the developments in Russia in the last few months, that it's time for the countries in Europe, despite their commercial interests in Russia with energy and similar products, that it's time for Europe to be looking anew at people like Kasparov and the situation in Russia?
Aznar:
It's time to talk with clarity, without ambiguity, with [Russian President] Vladimir Putin, to talk about the situation, talk about the direction of Russia at this time, to support and to maintain special support for these people like Kasparov that fight for different rights and opportunities in Russian society. I like very much an open Russia, not a closed Russia, a Russia with a strong civil society, not a closed civil society, a Russia with freedoms, not an authoritarian Russia, and Kasparov is a good example.
Building Democracy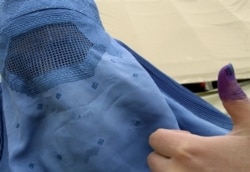 An Afghan woman votes in Kandahar in October 2004 (AFP)
ROWING AGAINST THE TIDE:
National Endowment for Democracy President Carl Gershman and Hudson Institute Senior Fellow John O'Sullivan led an RFE/RL briefing about U.S. efforts to promote democracy around the world, and especially in the Middle East.
LISTEN
Listen to the entire briefing (about 55 minutes):

Real Audio
Windows Media
RELATED ARTICLES
U.S. Reports On Democracy-Promotion Efforts
Is Bush Abandoning Democracy Building In Iraq?
Karen Hughes Urges Dialogue Based On 'Common Values'
SUBSCRIBE
For a regular review of civil-society developments throughout RFE/RL's broadcast region,
subscribe to "RFE/RL (Un)Civil Societies."