The parliamentary elections -- to choose the eighth parliament since the Islamic Revolution in 1979 -- are set for March 14. That is just a few days before the Iranian New Year holidays that begin on March 19-20 and continue for several weeks.
It is a time when the majority of Iranians stop working, with many traveling to visit friends and relatives.
Reformist politicians, in particular, have warned that holding elections this close to the New Year holiday would affect public participation. They also suggest that it might curb the ability of candidates to complain about possible discrepancies in pre-electoral vetting or postelection counting -- the usually controversial parts of Iranian elections. Moreover, a good part of Iran's state bureaucracy and media winds down for the holidays at that time.
Reformist Distress
The complaints reveal a latent suspicion -- particularly among reformists wishing to regain their parliamentary seats -- that state authorities want to hold the elections while the public is distracted, giving election officers and supervisors a freer hand to respond to "undesirable" aspirants or even results. The Interior Ministry has dismissed the concerns and said this was the best date available.
Aspiring candidates to elected offices in Iran are vetted by the Guardians Council, a body of senior jurists that closely examines candidates' backgrounds to check their Islamic credentials and loyalty to the system. The council also confirms the results of the elections.
The Guardians C
ouncil is dominated by clerics and headed by Ayatollah Ahmad Jannati, one of the Iran's prominent conservatives and an outspoken supporter of the government of Mahmud Ahmadinejad.
Jannati is often seen by reformist politicians as biased against reformist, independent, or unknown aspirants, and favoring conservatives. Reformists essentially suspect -- though they rarely make outright accusations, as that could lead to calumny-type charges against them -- that the now-conservative Interior Ministry and Guardians Council wants to restrict the number of reform candidates in these elections, as they have in previous elections. Both of those bodies, however, state that they merely implement electoral laws.
Disqualified candidates can appeal against the Guardians Council's decision, and they do, though their complaints rarely lead to their reinstatement. Such complaints would, it is thought, become even more difficult during a holiday period.
'Peripheral' Challenges
Abdolvahed Musavi-Lari, Iran's last interior minister in the reformist government of President Mohammad Khatami, said on June 5 that "the most important challenges" in elections in past years have been about the "peripheral" aspects of elections, which he cited as the vetting process and the vote-counting stage that may lead to the cancellation of results in some constituencies by Guardians Council-appointed supervisors.
He stated, perhaps politely, that Interior Ministry and Guardians Council officials might -- "from an optimistic perspective" -- have been "careless" in choosing the election date. Results, he said, would thus be announced when people are on vacation, and he suggested "the gentlemen" are worried about politicians' scrutiny and complaints about results.
Musavi-Lari said people might wonder, with fewer people to watch over ballots, if votes had been counted scrupulously or if some candidates' rights might have been violated. He also observed that such concerns might discourage people from voting.
"Those who are concerned should know [that] we do not intend to permit any violation and hope to precisely implement all regulations, as with the municipal elections."
Ismail Gerami-Moqaddam, a legislator and member of the reformist National Trust Party, concurred with this timing, saying that the media would be partially closed and unable to draw the public's attention to the elections, and "objectors will not have the means of safeguarding their rights," the daily "Etemad" reported on June 6.
The daily also cited Mohsen Mirdamadi, the secretary-general of the reformist Islamic Iran Participation Front, as saying that the date was not suitable as "elections must be held when all the country's affairs are up and running."
Another reformist daily, "Aftab-i Yazd" stated in its editorial on June 3 that the timing of the polls could make election officials the "targets of suspicions" and create public tensions and recriminations.
Authorities Unperturbed
The Interior Ministry, which is charged with implementing the election process, has dismissed the complaints.
Mujtaba Samareh-Hashemi, the deputy interior minister for political affairs, said on June 5 that it is now normal for political parties to doubt the integrity of elections before they have even taken place. He "We expect them to shout and make their accusations," he said.
Interior Minister Mustafa Pur-Mohammadi also explained on June 6 that the timing had effectively been imposed by conditions. He said the Guardians Council had pointed out in meetings that time was needed in 2008 for a possible second round of elections, while a 40-day period of mourning before March for Imam Hussein -- the grandson of the Prophet Muhammad and revered by Shi'ites -- made polling difficult in that time. Many mosques and prayer halls, where voting takes place, are used for religious gatherings then. Pur-Mohammadi said that "those who are concerned should know [that] we do not intend to permit any violation and hope to precisely implement all regulations, as with the municipal elections." He added that "if there are any violations, [the authorities] will be at work all the time and will deal with complaints."
Swimming Upstream?
Local elections were held in December, and some politicians objected strongly to the secretive vote-counting process and to alleged, but unproven, irregularities. Pur-Mohammadi said that while newspapers might be closed for four or five days around March 21 -- the first day of the Persian year -- websites would continue to report news and there would be no information blackout. He requested that newspapers remain open for that period.
The concerns expressed by reformists over the date of the elections indicates their persistent fear of a variety of suspected efforts and mechanisms used to keep them out of power: their candidates may be disqualified; and now, there may well be nobody watching vote counters and supervisors regarded by many as beholden to the right wing.
Further, reformists believe that the last local-council elections showed the public's renewed favor for reformists or moderate candidates and conveyed a general disenchantment with the Ahmadinejad government. And this may lead them to fear that his government may do what it can to limit the entry of moderates or reformists into the next parliament. Of course, any statements made in this regard must be cautious, as nobody could, without proof, accuse government officials of planning an electoral hijack or of fiddling with the votes.
Anyone who does make such charges can expect to face one of the various calumny-related charges thrown at outspoken journalists and politicians, such as "making false allegations to incite public opinion." But while vote counting may be a concern to reformists, it is perceived as the conservatives' second line of defense against "undesirable" candidates -- the first one being the rigorous vetting and subsequent rejection of prospective candidates. In a recent statement, the Guardians Council effectively declared that its conduct so far has been perfectly legitimate, and it will continue on as before.
The Structure Of Iran's Government
The Structure Of Iran's Government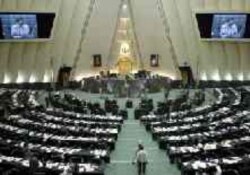 INSIDE THE ISLAMIC REPUBLIC: Iran is a theocratic Islamic republic governed under a 1979 constitution that was revised in 1989, when presidential powers were expanded and the prime minister's post was abolished.
Appointed -- not elected -- offices and bodies hold the real power in the government. The supreme leader, who serves as a chief of state would, is appointed for life by an Islamic religious advisory board that is called the Assembly of Experts. The supreme leader oversees the military as well as the judiciary and appoints members of the Guardians Council and the Expediency Council.
The Guardians Council -- some of whose members are appointed by the judiciary and approved by the parliament -- works closely with the government and must approve political candidates and legislation passed by the parliament. The Expediency Council is responsible for resolving legislative disputes that may arise between parliament and the Guardians Council over legislation.
The president, who is popularly elected for a four-year term, serves as the head of government. The legislative branch is made up of a 290-seat body called the Majlis, whose members are elected by popular vote for four-year terms...(more)
ARCHIVE
RFE/RL's
coverage of Iran
.