Bush spoke at a joint news conference after talks with Italian Prime Minister Romano Prodi today. The talks came shortly after he met with Pope Benedict XVI at the Vatican earlier.
"It's time to move the [UN special envoy Martti] Ahtisaari plan forward," Bush said, referring to the UN proposal to give the Serbian province, which has an ethnic Albanian majority, internationally supervised independence. The United States and its allies back the plan, which Russia and Serbia opposes.
Prodi said he discussed with the U.S. president Kosovo, Lebanon, and Afghanistan, among other issues.
Albania Visit
Bush is due to visit Albania, a strong supporter of Kosovar independence, on June 10.
At the recent Group of Eight (G8) industrialized nations summit in Germany, French President Nicolas Sarkozy proposed delaying a decision on the province's status for six months.
The UN plan, drawn up by special envoy Martti Ahtisaari, was formally presented to the UN Security Council on March 26.
The plan calls for "supervised independence," including guarantees for minorities.
Iraq Discussions
U.S. President George W. Bush also said he told the pope that the Iraqi government is working hard to achieve tolerance for the Christian minority in Iraq, in response to worries expressed by the pontiff.
Bush's visit to Italy is part of a six-nation European tour, which also included the G8 summit earlier this week in Germany.
Thousands of leftists and opponents of the war in Iraq are converging on Rome today for planned protests against Bush's visit.
Police with sniffer dogs were deployed at Rome's central station before the first trains carrying demonstrators arrived. Thousands of military police also took up position around the key areas of the city to try and ensure that the protests remain peaceful.
Final Status For Kosovo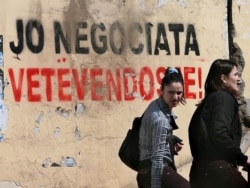 Pro-independence graffiti in Prishtina (epa)

FINALLY STATUS? Sabine Freizer, director of the Crisis Group's Europe Program, told an RFE/RL briefing that deep divisions in the UN Security Council make it uncertain what form Kosovo's future status might take.
LISTEN
Listen to the entire briefing (about 70 minutes):

Real Audio
Windows Media
ARCHIVE
RFE/RL's coverage of
Kosovo
. The website of
RFE/RL's South Slavic and Albanian Language Service
.