The plan, by UN envoy Martti Ahtisaari, calls for supervised independence for the UN-administered Serbian province.
It is opposed by Russia, a veto-wielding council member.
In Moscow today, Russian Foreign Minister Sergei Lavrov said Belgrade and Pristina should resume talks on Kosovo's future.
On May 31, Russia's UN Ambassador Vitaly Churkin said the new text it is not acceptable to his delegation, and will not alter Russia's opposition. But Russian officials have not said whether Moscow would use its veto power to block the resolution at the UN Security Council.
(AFP, Interfax, ITAR-TASS)

Final Status For Kosovo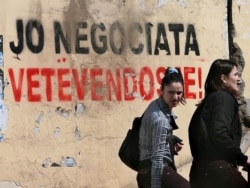 Pro-independence graffiti in Prishtina (epa)

FINALLY STATUS? Sabine Freizer, director of the Crisis Group's Europe Program, told an RFE/RL briefing that deep divisions in the UN Security Council make it uncertain what form Kosovo's future status might take.
LISTEN
Listen to the entire briefing (about 70 minutes):

Real Audio
Windows Media
ARCHIVE
RFE/RL's coverage of
Kosovo
. The website of
RFE/RL's South Slavic and Albanian Language Service
.