Russian Foreign Minister Sergei Lavrov said at the start of a meeting of G8 foreign ministers in Potsdam, Germany, that only talks between Belgrade and Pristina could solve a row over independence for the Serbian province.
"The fate of Kosovo and the fate of Serbia as a whole should be decided not in New York, or in Potsdam, or in any other format," Lavrov said, "but through direct talks. Negotiations have not yielded results yet, but this is not the only case when a conflict has been discussed for years."
Serbia, backed by Russia, opposes a plan proposed by United Nations mediator Martti Ahtisaari offering the Albanian majority province independence under international supervision.
Western powers have backed a UN resolution that would grant Kosovo effective independence, but do not have support from Moscow, a veto-wielding member of the Security Council.
Today's meeting in Potsdam is meant to fine-tune the agenda for the June 6-8 G8 summit in the German resort of Heiligendamm.
G8 foreign ministers are today expected to discuss the nuclear standoff with Iran and the unresolved conflict in Sudan's Darfur region.
The foreign ministers of Afghanistan and Pakistan will also have talks on the sidelines of the Potsdam meeting to find ways to cooperate on sealing the long and porous border between the two neighbors.
(Reuters, dpa)
Final Status For Kosovo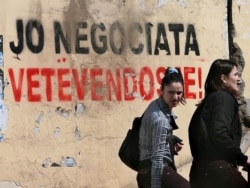 Pro-independence graffiti in Prishtina (epa)

FINALLY STATUS? Sabine Freizer, director of the Crisis Group's Europe Program, told an RFE/RL briefing that deep divisions in the UN Security Council make it uncertain what form Kosovo's future status might take.
LISTEN
Listen to the entire briefing (about 70 minutes):

Real Audio
Windows Media
ARCHIVE
RFE/RL's coverage of
Kosovo
. The website of
RFE/RL's South Slavic and Albanian Language Service
.