Iran Condemns G8 Stance Over Its Nuclear Program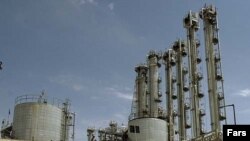 The IAEA has already cut off aid to Iran's Arak heavy-water nuclear facility (Fars) June 10, 2007 -- Tehran has condemned a recent warning by the Group of Eight (G8) industrialized economies that Iran could face more sanctions over its controversial nuclear program.
Mohamad Ali Hosseini, a spokesman for Iran's Foreign Ministry, said the G8 statement goes against what he called the intent of the international community to resolve the nuclear dispute through negotiations.
He reiterated that Iran will not suspend uranium enrichment ahead of any negotiations.
G8 leaders said in their "Heiligendamm Statement On Nonproliferation" that they support "further measures" if Iran continues to enrich uranium.
The UN Security Council has approved two rounds of sanctions that target Iran's defense and nuclear industries.
Iran, a signatory to the Nuclear Nonproliferation Treaty (NPT), has consistently argued that nuclear power is its right and that it has no plans to develop nuclear weapons.
The International Atomic Energy Agency (IAEA) reported Iran to the Security Council after it discovered major gaps in disclosure, and it has said it has too little evidence to conclude that Iran's nuclear efforts are purely nonmilitary.
(AP)

SUBSCRIBE For regular news and analysis on Iran by e-mail,
subscribe to "RFE/RL Iran Report."