Ortega was welcomed at Tehran's Mehrabad Airport by President Mahmud Ahmadinejad.
Ortega said his visit is intended to "reinforce links" with Iran.
The official Iranian news agency IRNA reported that Ortega said countries in "the south" are at a historic crossroads that allows for greater unity.
Ahmadinejad visited Managua in January, shortly before Ortega's swearing-in as president.
The two leaders announced the restoration of full diplomatic relations and the reopening of embassies in each other's capitals.
Ortega was also expected to meet with Iranian Supreme Leader Ayatollah Ali Khamenei, Foreign Minister Manuchehr Mottaki, and members of the parliamentary leadership.
(compiled from agency reports)
The Iranian Economy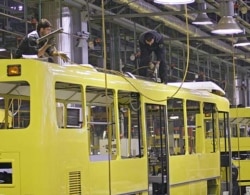 Buses being produced at a factory in Tehran (Fars)

IN NEED OF DIVERSIFICATION. Populist Iranian President Mahmud Ahmadinejad is having trouble fulfilling his promises to put the country's petrodollars on the plates of average citizens. Inflation and unemployment remain high and the economy is dominated by the energy sector.
RELATED ARTICLES
Foes Challenge President's Economic Rhetoric
Power Cuts In An Energy-Rich Land Spark Protests
Government Balks At Gasoline Rationing
Weak Economy Challenges Populist President
ARCHIVE
RFE/RL's
coverage of Iran
.
SUBSCRIBE
For weekly news and analysis on Iran by e-mail,
subscribe to "RFE/RL Iran Report."