RFE/RL: Who are the biggest customers of weapons sold by the United States?
Mark Bromley: In recent years you're still seeing big transfers to the Middle East, big transfers to Japan, big transfers to Taiwan -- those are the kind of big recipients that you're looking at. A lot of U.S. sales are in the form of foreign military sales, which does entail some level of U.S. government involvement. In those cases what's happening is that a foreign country [is] essentially buying into a U.S. [government] procurement deal, an already existing U.S. procurement deal. So there you can kind of see that as being a government-to-government sale. But a lot of the deals are also direct commercial sales, where you don't have U.S. government involvement in that way.
RFE/RL: Who are the biggest customers of weapons sold by Russia?
Bromley: India and China are the two major recipients of Russian equipment and have been over a number of years. What's been interesting, though, in the last couple of years is you're starting to see a diversification of Russia's recipient base, and you're seeing -- in particular in the last couple of years -- two big new customers emerging, or in once case reemerging. Algeria, which has signed up to a number of significant deals totaling some $7 billion in the last couple of years. And the other recipient, of course, is Venezuela, which has signed deals totaling around $3.5 billion in the last couple of years with Russia. And that's very important for Russia because India and China -- particularly India -- increasingly try to diversify away from Russia as a main supplier of military equipment. And in the case of China, they're developing technologically so quickly that it's not clear exactly for how long they'll remain as a major recipient of Russian military equipment. And sooner or later they're going to actually start producing the equipment themselves and won't need Russia as a supplier. So Russia's been seeking to expand the number of big customers that it has, and it's been quite successful in that in the last couple of years.
RFE/RL: Your report says much of the spending on weapons is to fight terrorism. Are they the right tools in this war?
Bromley: You'd have to start with some kind of common understanding of what you meant by terrorism. But if you're looking at kind of low-tech suicide bombers and activities such as that, clearly no. Fighter aircraft and warships are not particularly useful. I guess in the U.S. government's definition of the global war on terrorism, to a greater extent you see lumping in various kinds of foreign policy activities such as Iraq as being part of the global war on terror. And so there, I guess, maybe you could argue that the heavy weapons are useful. But I guess it's the extent to which you buy into that definition of terrorism and why you fight it.
RFE/RL: Speaking of terrorists, how much of the flow of weapons make it into the hands of terrorists?
Bromley: The black market for military equipment is fairly well established, and there [have] been significant efforts over the years to try and combat it through the use of UN embargoes, through the use of national improved and strengthened national export control systems. But it's no secret that individual terrorist groups -- they're able to access equipment, as and when they need it.
RFE/RL: What feeds this black market?
Bromley: You have various parts of the world where there are existing stockpiles of equipment from previous wars. And these stockpiles can often be quite loosely guarded. So you get second-hand transfers of equipment taking place. I mean, you see that particularly, for example, in Central America where you had the wars in the 1980s -- large inflows of arms to countries like El Salvador and Guatemala and Nicaragua. And then these wars then come to an end and you're left with these huge surpluses. And those weapons are then in turn fed particularly to the conflict in Colombia. You can see those processes taking place throughout conflict zones throughout the world.
RFE/RL: Weapons are to give armies the tools they need to ensure their countries' security. Are there alternative ways for at least some countries to accomplish this?
Bromley: If you're looking at the negative impacts of conflict in terms of death and disease and malnutrition and so forth, and then you think about military expenditures as something that not only is taking resources away from spending money on health and education, but is also creating some of those negative effects that can further erode a country's economic and social development, then clearly there is something to think about in terms of not only what the military spending that amount of money on military expenditure is costing, but also in terms of an opportunity cost: what you could have spent that money on if you hadn't allocated it in that way.
Russian Arms Exports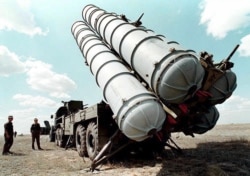 Russia's advanced S-300 air-defense system (epa file photo)

BOOM TIMES: In 2005, Russia sold more than $6 billion in weapons to more than 60 countries around the world. The state arms exporter says it has $17 billion in orders in hand....(more)
RELATED ARTICLES
Putin Pushes Greater Arms Exports
Energy, Weapons Bring Moscow Closer To Algiers
Will Russia's Oil Windfall Go To Military?
Putin Stresses Need For Strong Military
ARCHIVE
RFE/RL
coverage of Russia
. RFE/RL web special on
U.S.-Russian relations
.
SUBSCRIBE
For news and analysis on Russia by e-mail,
subscribe to "RFE/RL Russia Report."