Briefing: Burjanadze Urges Europe To Diversify On Energy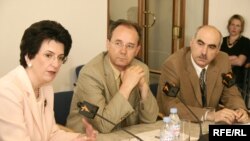 Nino Burjanadze (left) (RFE/RL) May 14, 2007 (RFE/RL) -- The speaker of Georgia's parliament has called on Europe to diversify its energy resources and back oil and gas pipelines that bypass Russia.
Speaking at a briefing at RFE/RL's headquarters in Prague, Nino Burjanadze said it was important not to depend on a single source for energy and that Tbilisi had suggested Europe use alternatives such as Georgia, Azerbaijan, and Turkey.
"We can transport Caspian oil and gas resources to Europe," Burjanadze said. "We will try to bring more and more arguments how important it is to diversify energy resources. These ideas are not against somebody, this is for everybody. We are not suggesting Europe block any other pipelines, or other countries, we are suggesting to use alternative sources, because Europe needs more energy, and in [the] Caspian we have more and more oil."
Burjanadze's comments came after the presidents of Russia, Kazakhstan, and Turkmenistan agreed on May 12 to build a pipeline that would carry natural gas from Turkmenistan to Europe via Kazakhstan and Russia.
Referring to the agreement, Burjanadze said "I'm not against some projects but I think it will be really bad if this project blocks all other projects. I'm sure we still have space to create some new pipelines."
Burjanadze said it was a pity Kazakh President Nursultan Nazarbaev had decided not to attend another energy summit that took place at the same time in Poland.
At that May 11 meeting, the presidents of Azerbaijan, Georgia, Lithuania, Ukraine, and Poland, backed a pipeline plan that would see Central Asian oil transported to Poland's Baltic coast without going through Russia.
"Of course I think it was a very important summit in Poland and it's a pity that unfortunately President Nazarbaev couldn't come," Burjanadze said. "But I hope in the near future it will be possible to have other meetings where Kazakhstan and Turkmenistan will be involved. I'm sure there's [still quite a big space] for cooperation."