The recent scandals surrounding former Kazakh presidential son-in-law Rakhat Aliev has highlighted the influential and powerful first families of Central Asia. The fact that Kazakh President Nursultan Nazarbaev's family -- his daughters and son-in-laws -- accumulated enormous wealth during his reign is not extraordinary.
Public discontent over the grand fortunes of longtime Kyrgyz President Askar Akaev contributed to his demise in neighboring Kyrgyzstan in 2005. The family and friends of his successor, Kurmanbek Bakiev, were targeted two years later, in April 2007, when thousands of demonstrators accused Bakiev's administration of nepotism and corruption. Government critics insist it is still a critical issue.
Human rights activist Edil Baisalov accuses Bakiev family members of trying to take control of domestic media, including television stations Pyramida and Channel 5. Baisalov claims that some of president's brothers have a strong voice in senior political appointments and court decisions.
"Even now, it is believed that the president's brother controls one of provinces or regions. The second brother is said to have control over the law-enforcement agencies. He apparently has a huge influence on top officials' appointments, up to the appointment of ministers. His third brother -- despite living abroad -- is interested in the justice system, and many court decisions are made through him."
Free To Criticize?
In Kyrgystan at least, the political opposition and independent media can freely criticize their president over such suspicions.
In neighboring Uzbekistan and Tajikistan, however, few would dare to publicly challenge presidential families' business practices or their extravagant lifestyles.
Uzbek President Islam Karimov's daughter, Gulnara Karimova, is dubbed the "Uzbek Princess." Widely viewed as an extraordinarily rich businesswoman, she is also tipped by many as a possible successor to her father. Reports in the Western and Russian media quote critics claiming that Karimova has extensive influence over several sectors of the Uzbek economy -- including, energy, gas, and cement. They say her assets include millions of dollars in jewelry, investment holdings in Dubai and Geneva, a retail network, nightclubs, and holiday resorts.
Uzbek media portray Karimova as a successful entrepreneur and caring mother to two presidential grandchildren, Islam and Iman.
Karimova has publicly denied the allegations, and claims a majority share in Uzbekistan's main mobile-phone operator is her only lucrative holding.
She says jewelry design is a hobby that doesn't contribute much to her income.
In 2006, Karimova debuted a new hobby -- music -- with the release of a music video under the stage name GooGoosha. The Western media quoted observers -- including former British Ambassador to Tashkent Craig Murray -- saying it was a part of a campaign to promote Karimova as a potential successor to her father.
Tajik Fortunes
In neighboring Tajikistan, some of President Emomali Rahmon's nine children, as well as his brother-in-law, Hasan Saadulloev, are said to have built vast fortunes by exploiting family connections. Officially, the president's daughter, Tahmina, owns a supermarket in the capital, Dushanbe, and her uncle runs a bank, Orienbank.
But Moscow-based journalist and Tajik government critic Dodojon Atoulloev says the presidential family avoids registering businesses under the family names, while in reality its members control many companies, stock markets, broadcasters, and banks.
Critics acknowledge that the presidents' family members have a right to run businesses and make money -- like other citizens. But they question the first family's business practices and criticize its members for exploiting presidential power for financial benefit and to pressure business rivals.
Atoulloev accuses President Rahmon's family of "turning the country into one big family business" -- putting people like Rahmon's brother-in-law, Hasan Saadulloev, above the law and beyond reproach.
"There is an article in the Tajik law on bank activities which says that only a person who has worked in a banking system for at least five years has a right to be appointed the head of a bank," Atoulloev says. "As we know, Hasan Saadulloev, who had never worked in any bank -- even for one day -- has been appointed the head of Orienbank. Soon after that, many important state companies -- such as Tajik Airways and [Tajik] Railways -- abruptly transferred their bank accounts from the National Bank to Orienbank."
Passing The Buck
While being a member of the presidents' family might bring financial gains, cutting presidential ties could mean far more than just a broken heart.
When Mansur Maqsudi, a U.S. businessman and the Coca-Cola representative in Tashkent, divorced Gulnara Karimova, the bottler's operations in Uzbekistan were effectively halted and Uzbek authorities ensured that the company left most of its local assets in the country. Authorities say the decision had nothing to do with the marriage break-up.
Journalist Atoulloev says that when Tajik President Rahmon's daughter, Tahmina, divorced her husband, her ex-husband's father, Yormuhammad Gulov, lost his position atop the State Food Company.
In the meantime, Atoulloev says, new presidential in-laws are winning senior posts and new businesses.
According to Michael Hall, the International Crisis Group's Central Asia project director, there is no easy way out in Tajikistan -- at least for the foreseeable future. Hall says that after five years of the civil war in the mid-1990s, many Tajiks consider Rahmon a symbol of stability and would be reluctant to take to the streets to challenge his family's activities.
But Hall says the situation might be different in Uzbekistan, where Gulnara Karimova could face hostile political and business elites once her father exits politics:
"Certainly, Gulnara Karimova, I think, may see herself as a possible successor to her father," Hall says. "But the fact that she has made -- at least, as rumor has it -- so many potential enemies among other members of the political and economic elite, I think, would make that very difficult for her."
But Hall and other experts also warn that the extensive -- and virtually unchecked -- power and wealth of the presidential families in this poverty-stricken region could eventually backfire in the form of political and social unrest.
Kazakhstan's Fallen Opposition
Kazakhstan's Fallen Opposition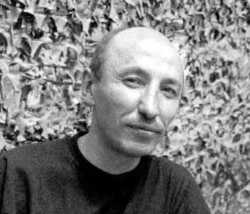 Slain Kazakh journalist Askhat Sharipzhanov (undated RFE/RL file photo)
February 13, 2006:
Altynbek Sarsenbaev
-- a leader of the Kazakh opposition, co-chairman of the Naghyz Aq Zhol party, former minister of information, former Kazakh ambassador to Russia, former secretary of Kazakhstan's Security Council -- is found dead with his bodyguard and his driver, shot to death, execution style, with their hands bound behind their backs.
November 11, 2005: Zamanbek Nurkadilov-- prominent Kazakh politician, former mayor of Almaty, former Minister of Extraordinary Situations, and since a vocal critic of President Nursultan Nazarbaev since March 2004 -- is found shot to death, with two shots in his chest and one in his head. Kazakh authorities officially rule the case a suicide.
June 2, 2005: Batyrkhan Darimbet -- opposition journalist and editor in chief of the weekly AZAT -- is killed in what is officially reported as a traffic accident. Relatives and activists assert that it was a political killing.
December 19, 2004: Erzhan Tatishev -- head of Kazakhstan's largest bank, TuranAlemBank -- is killed in what was officially described as a hunting accident. Kazakh political observers allege that it was a premeditated assassination.
July 20, 2004: Askhat Sharipzhan-- independent journalist and political commentator for NAVI online -- dies of injuries sustained several days earlier in what was officially reported as a hit-and-run accident. Relatives and colleagues believe it was an assassination.
November17, 2002: Independent journalist Nuri Muftakh is killed in what is officially reported as a traffic accident. Colleagues and activists regard the death as suspicious.
January 4, 2002: Human rights activist Aleksei Pugaev is found dead, the victim of a hit-and-run car accident. Colleagues regard the circumstances as suspicious and no one is ever arrested in connection with the death.
(compiled by RFE/RL's Kazakh Service)
RELATED ARTICLES
Sarsenbaev Murder Trial Begins
Kazakh President Tries To Calm Growing Political Crisis
Nazarbaev Landslide Buries Future Problems
Nazarbaev Touts Stability In Run-Up To Election
ARCHIVE
To view an archive of RFE/RL's coverage of Kazakhstan, click here.

SUBSCRIBE
For weekly news and analysis on all five Central Asian countries by e-mail, subscribe to "RFE/RL Central Asia Report."