Aliev -- who is married to President Nursultan Nazarbaev's influential eldest daughter, Darigha -- denies the charges. He says he's being punished for his presidential ambitions and for challenging Nazarbaev's recent move to secure himself president-for-life status.
Critics in Kazakhstan suspect that Aliev is cynically exploiting democratic slogans to further his own career.
An influential 44-year-old businessman and politician, Aliev is accused of kidnapping two senior bank officials in January -- one of whom subsequently disappeared.
In a statement published on the "Kazakhstan Today" website, Aliev rejects the charges and blames them on presidential ambitions that he says he confided in Nazarbaev earlier this year.
More recently, Aliev last week criticized amendments to the Kazakh Constitution that allow Nazarbaev an unlimited number of terms as president.
Bona Fides
But opposition credentials could prove elusive for a man who has benefited so greatly from Kazakhstan's close-knit, post-Soviet administration.
Many observers in Kazakhstan say Aliev's criticism of his father-in-law is driven by personal animosity. In a country where clan and family connections play a major role in political and business life, opposition leaders accuse both Nazarbaev and Aliev of nepotism and corruption.
Amirjan Qosanov, the deputy head of the Social Democratic Party of Kazakhstan, tells RFE/RL's Kazakh Service that Aliev's case shines a bright light on how politics work in this hydrocarbon-rich former Soviet republic.
"What we have now reflects the true situation in Kazakhstan's political structure," Qosanov says. "In civilized countries, any political decision is reached through the parliament, a party, elections, and NGOs. Here, the system is based on family relations. [Aliev's] statement criticizing his father-in-law, the president, sounds very political, because here politics is the family."
Shooting Star?
Aliev claims to have told Nazarbaev "a few months ago" that he "had decided to run for the presidency in the next elections in 2012." Aliev says that shortly after that conversation, he was accused of abducting senior managers of Nurbank, a mid-sized Kazakh bank that Aliev is said to control.
In late May, Kazakh authorities suspended two major media outlets believed to be controlled by Aliev and his wife, Darigha Nazarbaeva -- KTK television and the weekly publication "Karavan."
Aliev condemned that move as a "return to the totalitarian past" aimed at silencing the president's critics.
While the media suspensions were criticized by rights activists, Kazakh observers say that Aliev's self-styled role as a defender of democracy is a tough sell.
Dos Koshim, the chairman of the nongovernmental Network of Independent Observers and longtime critic of the current administration, says that he finds it difficult to believe Aliev's claim that his political stance changed after his "work with international organizations" and meetings "with prominent European politicians."
"When [Aliev] writes about democracy, higher values, and democratic principles, it makes me laugh," Koshim says. "If this person was fighting for democracy, then why was he silent during his days as [Kazakhstan's] representative to the [Organization for Security and Cooperation in Europe]? I saw [the way he behaved] in Vienna during forums dedicated to free and fair elections."
The Interior Ministry announced that it has sent a special delegation to Vienna, led by the country's deputy prosecutor-general. In the meantime, the Kazakh Embassy in Vienna says Aliev has disappeared and cannot be reached by telephone.
In his statement, Aliev maintains that he "will always stay in politics" and do "everything [he] possibly can" to prevent the country from "returning to its totalitarian past."
Critics of Kazakhstan's current administration might well argue that the country has not fully emerged from that past. And they are almost certainly asking whether Rakhat Aliev is the best spokesman that they have for greater freedom and rule of law.
(The director of RFE/RL's Kazakh Service, Merkhat Sharipzhanov, contributed to this report.)
Kazakhstan's Fallen Opposition
Kazakhstan's Fallen Opposition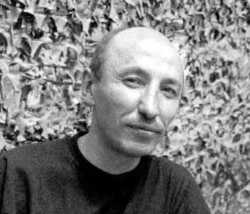 Slain Kazakh journalist Askhat Sharipzhanov (undated RFE/RL file photo)
February 13, 2006:
Altynbek Sarsenbaev
-- a leader of the Kazakh opposition, co-chairman of the Naghyz Aq Zhol party, former minister of information, former Kazakh ambassador to Russia, former secretary of Kazakhstan's Security Council -- is found dead with his bodyguard and his driver, shot to death, execution style, with their hands bound behind their backs.
November 11, 2005: Zamanbek Nurkadilov-- prominent Kazakh politician, former mayor of Almaty, former Minister of Extraordinary Situations, and since a vocal critic of President Nursultan Nazarbaev since March 2004 -- is found shot to death, with two shots in his chest and one in his head. Kazakh authorities officially rule the case a suicide.
June 2, 2005: Batyrkhan Darimbet -- opposition journalist and editor in chief of the weekly AZAT -- is killed in what is officially reported as a traffic accident. Relatives and activists assert that it was a political killing.
December 19, 2004: Erzhan Tatishev -- head of Kazakhstan's largest bank, TuranAlemBank -- is killed in what was officially described as a hunting accident. Kazakh political observers allege that it was a premeditated assassination.
July 20, 2004: Askhat Sharipzhan-- independent journalist and political commentator for NAVI online -- dies of injuries sustained several days earlier in what was officially reported as a hit-and-run accident. Relatives and colleagues believe it was an assassination.
November17, 2002: Independent journalist Nuri Muftakh is killed in what is officially reported as a traffic accident. Colleagues and activists regard the death as suspicious.
January 4, 2002: Human rights activist Aleksei Pugaev is found dead, the victim of a hit-and-run car accident. Colleagues regard the circumstances as suspicious and no one is ever arrested in connection with the death.
(compiled by RFE/RL's Kazakh Service)
RELATED ARTICLES
Sarsenbaev Murder Trial Begins
Kazakh President Tries To Calm Growing Political Crisis
Nazarbaev Landslide Buries Future Problems
Nazarbaev Touts Stability In Run-Up To Election
ARCHIVE
To view an archive of RFE/RL's coverage of Kazakhstan, click here.

SUBSCRIBE
For weekly news and analysis on all five Central Asian countries by e-mail, subscribe to "RFE/RL Central Asia Report."