Both media outlets are connected to Rakhat Aliev, the son-in-law of Kazakh President Nursultan Nazarbaev.
Kazakhstan's Interior Ministry announced on May 23 that charges had been filed against Aliev in connection with the kidnapping and assault of two senior members of Nurbank.
Aliev is Kazakhstan's ambassador to Austria.
Exporting Kazakhstan's Energy
Exporting Kazakhstan's Energy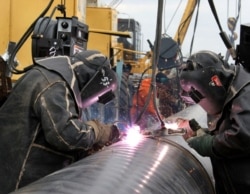 Work on a Kazakh pipeline (TASS file photo)


PRESSURE FROM THE KREMLIN? Columbia University political science professor Kimberly Marten told an RFE/RL briefing that Russia seems to be using its control of gas pipelines in the former Soviet Union to pursue its goals in Kazakhstan.
LISTEN
Listen to the entire briefing (about 60 minutes):

Real Audio
Windows Media
RELATED ARTICLES
The Emerging Post-Soviet Petrostates
Nazarbaev, Merkel Discuss Energy, Bilateral Ties
Nazarbaev Talking Energy, Economic Cooperation On China Visit
ARCHIVE
RFE/RL's coverage of
Kazakhstan
.