Reports in Kazakhstan's independent media paint a picture of Aliev as a premier bad boy of Kazakh politics for nearly a decade. The son-in-law of President Nursultan Nazarbaev and a physician by training, Aliev has served as a senior tax official, a deputy security chief, a two-time ambassador to Austria, and a deputy foreign minister. He has also headed Kazakhstan's national Olympic committee and was the country's special representative to the OSCE.
Kazakh independent media have for years questioned Aliev's business practices, including alleged intimidation and even possible connections to the murders of opposition leaders and journalists.
Now the 44-year-old Aliev faces charges of abduction and assault against two senior bank executives. Aliev is also likely to face charges of illegal business activities, since the abductions were allegedly intended to force those bank officials to sell their shares in a building.
Some, including Aliev, are convinced that there will be no extradition. Aliev told Russian newspaper "Nezavisimaya gazeta" that there is no extradition agreement between Kazakhstan and Austria.
Whose Interest?
But others in Kazakhstan feel it simply is not politically expedient for Kazakh authorities to bring this seemingly errant son back home.

"It is not likely that [Rakhat] will return [to Kazakhstan]," says Serik Kapparov, a leader in the unregistered opposition party Naghyz Ak Zhol. "If he comes back, there will be a lot of issues raised here. There are so many people inside the president's circles who are not interested at all in his return."
Former Senator Zauresh Battalova, now a coordinator for a political discussion club in Kazakhstan called Polyton, echoed Kapparov's skepticism. "Rakhat has a lot of facts and information about the president and family members," Battalova said. "I think that a political trade is going on now in order to keep Rakhat far away from his homeland, so that he keeps his mouth shut."
Well-Connected
Aliev is married to Darigha Nazarbaeva, the Kazakh president's eldest daughter. He has enjoyed a privileged life and been privy to workings within the Kazakh president's inner circle.
His testimony in a Kazakh courtroom could prove devastating for the some of the country's leading politicians and entrepreneurs, according to John MacLeod, a senior editor at the London-based Institute for War and Peace Reporting.
"The whole framework in which he operated and is alleged to have done these various things is ultimately a product of the system which is the creation of his father-in-law," MacLeod said. "In other words, [it is] this hierarchical system where individuals are granted political and commercial favors by virtue of their particular position."
MacLeod speculated that if Aliev returned to face charges, any trial process would probably confine itself to charges of abduction and assault.
"I think the authorities would try to keep [the trial process] strictly within the confines of the accusations that have been made and not allow Aliev -- or others, for that matter -- to make political statements," MacLeod said. "[Authorities] would try to run a sort of very professional trial and keep it to the matters at hand, so that it didn't become a public affair. And if they do that, then I think they will be able to manage it."
No Easy Exit
Serikbay Alibaev, the chief of the opposition Social Democratic Party's branch in Astana, also believes there are things Aliev knows that could negatively affect some people if he spoke out.
"I do not think that [Rakhat] will say everything he knows, because he was himself involved in some issues," Alibaev said. "If he decides to speak up, he will choose what to say in order to avoid further accusations against himself. But he will certainly not say everything."
MacLeod of IWPR said that would likely lead to Aliev being portrayed as simply an exception in Kazakhstan -- a person who misused his positions and the opportunities presented to him by virtue of holding public office.
"The line will be that there's one bad egg and he's sort of cast out from the system by his righteous peers," MacLeod said. "That's the sort of damage-limitation exercise that will be carried out."
Aliev's legal predicament presents other difficulties for the Kazakh regime, as well. Independent media in Kazakhstan and media outside Kazakhstan referred to Aliev's alleged misdeeds for years. When he was first sent to Austria in 2002, there were stories in which opposition leaders accused Aliev of involvement in schemes to topple his father-in-law. Independent media also questioned his business practices, including alleged intimidation and even possible connections to the murders of prominent opposition leaders and independent journalists.
MacLeod said most of these stories -- like the illegal payoffs in the 1990s from U.S. businessmen to Kazakh officials for shares in oil fields, known as "Kazakhgate" -- have long been in the public domain. But a highly public trial of Aliev at home in Kazakhstan might well remind some people of allegations that have been made against other Kazakh officials.
(Merhat Sharipzhan of RFE/RL's Kazakh Service contributed to this report.)
FURTHER READING
Battle Of The Clans

Kazakh politics are dominated by a few powerful clans with varying ties to President Nursultan Nazarbaev.

more

The Other Son-In-Law

Timur Kulibaev, who is married to President Nazarbaev's second daughter, Dinara, is head of the huge KazMunaiGaz energy concern.

more
Kazakhstan's Fallen Opposition
Kazakhstan's Fallen Opposition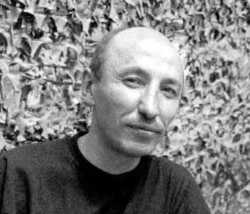 Slain Kazakh journalist Askhat Sharipzhanov (undated RFE/RL file photo)
February 13, 2006:
Altynbek Sarsenbaev
-- a leader of the Kazakh opposition, co-chairman of the Naghyz Aq Zhol party, former minister of information, former Kazakh ambassador to Russia, former secretary of Kazakhstan's Security Council -- is found dead with his bodyguard and his driver, shot to death, execution style, with their hands bound behind their backs.
November 11, 2005: Zamanbek Nurkadilov-- prominent Kazakh politician, former mayor of Almaty, former Minister of Extraordinary Situations, and since a vocal critic of President Nursultan Nazarbaev since March 2004 -- is found shot to death, with two shots in his chest and one in his head. Kazakh authorities officially rule the case a suicide.
June 2, 2005: Batyrkhan Darimbet -- opposition journalist and editor in chief of the weekly AZAT -- is killed in what is officially reported as a traffic accident. Relatives and activists assert that it was a political killing.
December 19, 2004: Erzhan Tatishev -- head of Kazakhstan's largest bank, TuranAlemBank -- is killed in what was officially described as a hunting accident. Kazakh political observers allege that it was a premeditated assassination.
July 20, 2004: Askhat Sharipzhan-- independent journalist and political commentator for NAVI online -- dies of injuries sustained several days earlier in what was officially reported as a hit-and-run accident. Relatives and colleagues believe it was an assassination.
November17, 2002: Independent journalist Nuri Muftakh is killed in what is officially reported as a traffic accident. Colleagues and activists regard the death as suspicious.
January 4, 2002: Human rights activist Aleksei Pugaev is found dead, the victim of a hit-and-run car accident. Colleagues regard the circumstances as suspicious and no one is ever arrested in connection with the death.
(compiled by RFE/RL's Kazakh Service)
RELATED ARTICLES
Sarsenbaev Murder Trial Begins
Kazakh President Tries To Calm Growing Political Crisis
Nazarbaev Landslide Buries Future Problems
Nazarbaev Touts Stability In Run-Up To Election
ARCHIVE
To view an archive of RFE/RL's coverage of Kazakhstan, click here.

SUBSCRIBE
For weekly news and analysis on all five Central Asian countries by e-mail, subscribe to "RFE/RL Central Asia Report."