Kazakh Leader's Son-In-Law Urges Austria Not To Extradite Him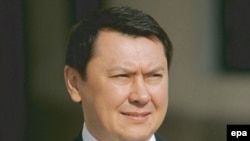 Rakhat Aliev (file photo) (epa) June 2, 2007 -- Rakhat Aliev, the son-in-law of Kazakhstan's president, has appealed to Austrian authorities not to extradite him back to his homeland.
Aliev was arrested on June 1 following a request from the authorities in Kazakhstan, where he is wanted on abduction charges.
He denies the accusation. Aliev told the Austrian magazine "Profil," in an article to be published on June 4, that his "life and the lives of my family are endangered" back in Kazakhstan.
Aliev, who is married to Nursultan Nazarbaev's eldest daughter, had served as Kazakhstan's ambassador to Austria before he was dismissed from the post on May 26.
(AP)