Russia has said that TNK-BP is not producing enough gas from the field and is therefore not complying with production obligations. "How long should we tolerate it if participants of that consortium do nothing to meet the license obligations?" Putin asked on June 5.
The Russian president didn't mention that TNK-BP has repeatedly said that the reason it can not meet license obligations is that Gazprom has blocked a plan to build a gas pipeline to China.
Immense Potential
Gazprom officials have insisted that they are not interested in Kovytka, although the giant gas field surely must be an interesting prospect. The Kovytka gas field in Russia's Irkutsk Oblast contains proven reserves of nearly 2 trillion cubic meters of gas -- enough to supply the world's needs for one year.
In August 2003, in a $6.7 billion deal, British Petroleum joined forces with several companies -- the Renova Group, the Alfa Group, Access Industries, and Interros -- to create TNK-BP. The shares were split 50-50 between BP and their Russian partners.
The deal was heralded as a new era for Russian business. But, at the time, a few eyebrows were raised at BP's inclusion of Alfa Group.
Alfa Group had been investigated by the Russian Audit Chamber for numerous violations after it had purchased in 1997 a 40-percent stake in the privatization of the then state owned oil company TNK. Alfa Group bought TNK using a closed shareholding company it had created, Novy Holding.
Among the violations listed by the Audit Chamber at the time was that the State Property Committee failed to verify the legality of the source of funds used by Novy Holding to purchase its stake in TNK.
In December 1999, then U.S. Secretary of State Madeleine Albright refused to allow the U.S. Export-Import Bank to guarantee up to $500 million in loans to TNK needed to buy vital equipment. Albright pointed to the fact that some Western oil companies, including BP, had complained that they had been cheated by TNK.
Concerns Over TNK
In 2000, however, U.S. State Department spokesman James Foley announced that TNK was now addressing U.S. concerns and that Albright's delays "had a tonic effect on this particular situation. Moreover, in recent appearances, President-elect Putin has made clear public statements recognizing the importance of protecting investor and creditor rights."
But in the background there were signs that there were rocky times ahead for BP-TNK. BP owned the majority share in a company called Rusia Petroleum, which in turn owned the license to develop Kovytka.
In the background there were signs that there were rocky times ahead for BP-TNK.
BP was intent upon developing Kovytka and selling the gas to China. But many analysts say the plan collides with Gazprom's own plans to supply China and other Pacific Rim countries with gas. When TNK-BP applied for permission to build a pipeline to transport Kovytka gas to China, Gazprom blocked the project.
In February 2003, the Russian daily "Vedomosti" reported that Natural Resources Minister Vitaly Artyukhov had ordered proceedings to cancel a license for developing Kovykta on the grounds that the field has not been developed as promised.
That immediately raised suspicions that Gazprom was maneuvering to have BP thrown out of Kovytka.
Something For Nothing
"The Moscow Times" at the time quoted Rusia board member Sergei Aleksashenko as saying, "Gazprom doesn't have any money. But it wants to get Rusia Petroleum for nothing. It wants to use its administrative resources. One way of doing this is by orchestrating the Natural Resources Ministry check."
A Gazprom spokesman dismissed the charge as "rubbish."
But Western and Russian observers became apprehensive, fearing it signified a shift in the rules of the game.
It became evident by 2005 that TNK-BP was not the only target for Russian administrators. Shell's Sakhalin II project came under attack and, in fall 2006, the company lost control of the development to Gazprom. Last year, the development of the huge Shtokman gas field was declared off-limits to foreigners.
The Post-Soviet Petrostate
The Post-Soviet Petrostate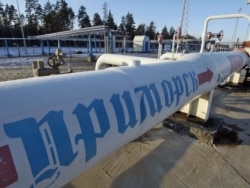 The oil-export terminal at Primorsk, Russia (TASS)


WEALTH AND POWER. At an RFE/RL briefing in Washington on January 24, Freedom House Director of Studies Christopher Walker and RFE/RL regional analyst Daniel Kimmage argued that energy-sector wealth is preventing many former Soviet countries -- Azerbaijan, Kazakhstan, Russia, and Turkmenistan -- from developing strong democratic institutions.
LISTEN
Listen to the entire briefing (about 90 minutes):

Real Audio
Windows Media
RELATED ARTICLES
Russia's Gazprom Looks Ahead To A New Year
Azerbaijan: Coping With The Oil Windfall
Azerbaijan Boom Sparks Fears Of Dutch Disease
Kazakh President Tells West -- We Don't Need Your Advice
Could Turkmen President's Death Lead Instability?