At least 18 journalists have been gunned down since January, and 10 relatives of journalists have been killed -- in one case, seven members of one family.
While Western journalists in Iraq often operate with the support of a security team, Iraqi journalists primarily operate on their own, primarily because they work for media outlets unable to float the high costs of a security detail. While journalists who live and work within their communities may also be relatively safe operating in familiar terrain, it is becoming more apparent that the opposite is true.
Warnings Not Heeded
Family members of slain journalists often report that the victim had received threats prior to their killing. Some journalists try to address threats by changing their residence, residing with friends or relatives, or relocating their families outside Iraq.
Sahar Hussein Ali al-Haydari, a correspondent for Aswat Al-Iraq (Voices of Iraq), had received several death threats prior to her June 7 killing in Mosul. In 2006, she was targeted twice for abduction, according to the Committee to Protect Journalists (CPJ). One attempt failed, while she was rescued the second time. She was shot in March 2006, and then in August, gunmen killed her daughter's fiance. In 2005, al-Haydari had moved her family to Damascus due to death threats.
Al-Haydari told the CPJ in a March 22 e-mail that her name was fourth on a "death list" of journalists and police officers compiled by the Al-Qaeda-affiliated Islamic State of Iraq. The group circulated the list around Mosul and posted the list on the door of her home. Gunmen answered her mobile telephone after her death, telling a Mosul police captain, "She went to hell."
"The constant threats and abductions she endured, and her eventual murder, are stark reminders of the sacrifice she made to tell the Iraqi story to the world," CPJ Executive Director Joel Simon said.
The Ansar Al-Sunnah Army, an insurgent group with ties to the Islamic State of Iraq, claimed responsibility for al-Haydari's killing in a June 11 Internet statement dated June 8. "We had received information that this journalist worked for the Kurdistan media and she was aided by the apostate police force," the Ansar statement said. " We already knew, prior to receiving this information, that her work was aimed at ruining the mujahedin's reputation."
The statement continued: "When she walked into the trap set for her, the mujahedin brothers pounced on her and showered her with a torrent of bullets from their machine guns, killing her instantly. The brothers then took her cell phone and found numbers and pictures in it that belonged to police officers. This assured us that her work was for the benefit of both the police and the apostate [Prime Minister Nuri] al-Maliki government."
Casualties Of War
Al-Fallujah-based journalist Abd al-Rahman al-Isawi was shot dead along with seven of his relatives on May 30. Al-Isawi was killed in his home along with his wife, son, parents, and three other relatives. Al-Isawi worked for the online NINA news agency, and he was also the media representative of the Al-Anbar Salvation Council, a gathering of Sunni Arab tribal leaders from the governorate who have committed to fighting Al-Qaeda in Iraq.
Nazar Abd al-Wahid al-Radhi, a correspondent working for RFE/RL's Radio Free Iraq (RFI) was gunned down outside a hotel in Al-Amarah on May 30. He was the second RFI correspondent killed in Iraq in as many months. According to witnesses, armed men in a pickup truck opened fire on al-Radhi and four other journalists as they left a workshop at the hotel. Al-Radhi was the only journalist killed in the attack. Al-Radhi was a well-known journalist in Iraq, and also worked for the Internet news agency Aswat al-Iraq and the daily "Al-Sabah al-Jadid." RFE/RL President Jeff Gedmin said that RFE/RL "mourns his loss and honors his memory."
RFI correspondent Khamail Muhsin Khalaf was abducted in Baghdad on her way home from work on April 3. Her body was found two days later. Following her abduction, an unidentified caller telephoned her family using her mobile phone, but no further communication was made. Khamail had received several threats after joining RFI in 2004, where she reported on social and cultural life in Iraq. She was a highly regarded former Iraqi television journalist and newscaster.
According to media watchdog Reporters Without Borders, at least 182 journalists and media assistants have been killed, and another 77 kidnapped in Iraq since 2003. Of those kidnapped, 23 have been murdered, 40 have been released, and 14 are still being held by their abductors.
The targeting of journalists serves the insurgent cause and its attempt to influence and direct public perceptions of the security situation in Iraq and the work of the Iraqi government toward reining in the insurgency. Should insurgents succeed in their campaign to intimidate journalists into leaving their profession, the loss, in terms of civil-society development will be devastating.
Khamail Muhsin Khalaf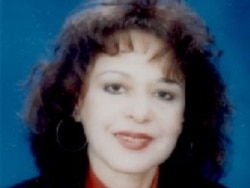 DEDICATED JOURNALIST: On April 5, the worst fears of the family and acquaintances of RFE/RL's Radio Free Iraq correspondent Khamail Muhsin Khalaf were realized when her body was recovered not far from her Baghdad home.
News of Khamail's death at the hands of her abductors elicited outrage and sorrow, and a vow by Iraq's Interior Ministry to bring to justice the killers of a woman who had "served Iraq for more than 30 years."
Khamail's husband, Muhammad, cited his late wife and mother of their three children's dedication to her work: "Even when she was ill, even when she was facing hard situations, even when she had family or social problems, her duty and attendance at work were most important."
Khamail's mother described the difficulty that authorities encountered even retrieving her daughter's body: "The police said that when commandos tried to clear the body from the street, gunmen were awaiting them and a shootout took place. The police commandos succeeded in clearing the body to Al-Yarmuk Hospital. I, her brother and his wife, and her uncles, we buried her, and here we are mourning her."
Please see:
Radio Free Iraq Reporter Found Dead In Baghdad
Iraqi Authorities Vow Justice For Journalist's Killers
Iraq: The True Voice Of Simple Iraqi People