Al-Radhi worked for RFE/RL's Radio Free Iraq and was with several other journalists in front of the Al-Arusa Hotel after a press event there when armed men in a pickup truck drove up and opened fire. An eyewitness said al-Radhi was hit by four bullets and died instantly.
Al-Radhi had been threatened previously because of his work for a "foreign agency" and his uncompromising stand against extremism.He was 37 years old and the father of three children.

Al-Radhi is the second RFE/RL correspondent slain in Iraq in seven weeks. Khamail Muhsin Khalaf, Radio Free Iraq's Baghdad correspondent and a former television anchor, was abducted and killed in early April. Her body was found in western Baghdad on April 5. She was 50 years old and the mother of three.

Al-Radhi was a well-known journalist in Iraq. In addition to reporting regularly for RFE/RL, he also worked at the independent news agency Aswat al-Iraq (Voices of Iraq), the daily newspaper "Al-Sabah al-Jadid" (The New Morning), and headed a nongovernmental organization for young journalists funded by the Iraqi government.

RFE/RL President Jeff Gedmin expressed condolences to Al-Radhi's family, noting that: "Mr. Al-Radhi was liked and respected by all his RFE/RL colleagues. We mourn his loss and honor his memory."

Gedmin said al-Radhi reported on social issues impacting the daily lives of his fellow citizens in Al-Amarah and risked his life to tell the world what was happening in his hometown in Iraq's Maysan Governorate.
"I condemn the murder of al-Radhi, on the streets of the city he loved. He was a dedicated and courageous correspondent. The best tribute we can pay him is to continue his work," Gedmin said.

Khamail Muhsin Khalaf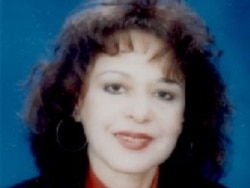 DEDICATED JOURNALIST: On April 5, the worst fears of the family and acquaintances of RFE/RL's Radio Free Iraq correspondent Khamail Muhsin Khalaf were realized when her body was recovered not far from her Baghdad home.
News of Khamail's death at the hands of her abductors elicited outrage and sorrow, and a vow by Iraq's Interior Ministry to bring to justice the killers of a woman who had "served Iraq for more than 30 years."
Khamail's husband, Muhammad, cited his late wife and mother of their three children's dedication to her work: "Even when she was ill, even when she was facing hard situations, even when she had family or social problems, her duty and attendance at work were most important."
Khamail's mother described the difficulty that authorities encountered even retrieving her daughter's body: "The police said that when commandos tried to clear the body from the street, gunmen were awaiting them and a shootout took place. The police commandos succeeded in clearing the body to Al-Yarmuk Hospital. I, her brother and his wife, and her uncles, we buried her, and here we are mourning her."
Please see:
Radio Free Iraq Reporter Found Dead In Baghdad
Iraqi Authorities Vow Justice For Journalist's Killers
Iraq: The True Voice Of Simple Iraqi People