Rushdie is best known for his novel "The Satanic Verses," which offended many Muslims worldwide and prompted Iran's revolutionary leader Ayatollah Ruhollah Khomeini to issue a fatwa death warrant against Rushdie for the book's alleged blasphemy.
Rushdie became Sir Salman in Queen Elizabeth's June 16 birthday honors list for his services to literature.
The following day, a spokesman for the Iranian Foreign Ministry accused Britain of insulting Islamic values, saying Rushdie was "one of the most hated figures" in the Islamic world.
"Honoring and commending an apostate and hated figure will definitely put the British officials [in a position] of confrontation with Islamic societies," spokesman Mohammad Ali Hosseini said.
"This act shows that insulting Islamic sacred [values] is not accidental. It is planned, organized, guided and supported by some Western countries," he told reporters.
And today, Pakistan's parliament condemned the award, saying it would encourage contempt for the Prophet Muhammad.
"This house strongly condemns the title of 'sir' awarded to Salman Rushdie," parliamentary affairs minister Sher Afgan said, reading the resolution passed by Pakistan's lower house.
"We demand from Britain to refrain from such acts which hurt the sentiments of Muslims and take back the title of 'sir' given to Rushdie," he said.
Years In Hiding
Rushdie was born in Mumbai and pursued a career in advertising before turning to writing, winning Britain's prestigious Booker Prize for his 1981 novel, "Midnight's Children."
But it was "The Satanic Verses," published in 1988, that catapulted him to a wholly different kind of fame.
The book angered Muslims for its perceived disrespectful depiction of the Prophet Muhammad, his wives and companions.
Iran's Ayatollah Khomeini issued a 1989 fatwa, or religious edict, ordering Muslims to kill the author because the novel insulted Islam.
Rushdie spent the next nine years hiding in secret locations in the United Kingdom under government protection.
Iran's government in 1998 said it would not support the original fatwa, though some groups have said it is irrevocable.
Since then Rushdie has appeared in public more and more.
In a statement on his award, the 59-year-old author said, "I am thrilled and humbled to receive this great honor and am very grateful that my work has been recognized in this way."
(compiled from agency reports)
Islam In The West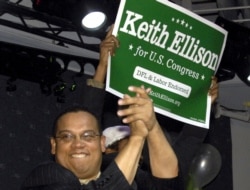 U.S. Congressman-elect Keith Ellison celebrates in November 2006 after becoming the first Muslim ever elected to the U.S. House of Representatives (epa)
CHALLENGES AND OPPORTUNITIES: Boston College professor Peter Skerry, a nonresident senior fellow at the Brookings Institution, led an RFE/RL briefing on issues related to integrating Muslim communities in Western societies.
LISTEN
Listen to the entire briefing (about 55 minutes):

Real Audio
Windows Media
RELATED ARTICLES
New Report Says EU Muslims Face Broad Discrimination
Bosnian Cleric Sees Unique Role For Europe's Muslims
Europe Proving To Be Growing Base For Al-Qaeda
Vienna Conference Ends With Appeals For Tolerance