State Department spokesman Sean McCormack also praised North Korea for inviting inspectors from the UN's International Atomic Energy Agency (IAEA) for talks next week in Pyongyang.
McCormack called the move "a good positive step."
The visit, announced by the IAEA, is the first concrete step toward North Korea's nuclear disarmament.
The process to persuade Pyongyang to give up its nuclear program was stalled for months by a dispute over $25 million in funds that were frozen in a Macau bank.
North Korean state media said on June 16 that enough progress had been made on the issue that a "working-level delegation" from the IAEA had been invited to discuss procedures for the verification and monitoring of the reactor's shutdown.
North Korea expelled the inspectors in December 2002.
(compiled from agency reports)
Battling Nuclear Proliferation
Battling Nuclear Proliferation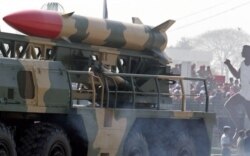 A nuclear-capable, short-range missile on display in Islamabad, Pakistan, in March (AFP)


IS PROLIFERATION INEVITABLE? On June 18, RFE/RL hosted a briefing featuring Henry Sokolski, executive director of the Nonproliferation Policy Education Center. Sokolski discussed the challenges to the global nonproliferation regime and what Western countries can do to strengthen it.
LISTEN
Listen to the entire briefing (about 60 minutes):

Real Audio
Windows Media
RELATED ARTICLES
El-Baradei Says Attack On Iran Would Be Catastrophic
Rogue Nuclear Programs Threaten New Arms Race
Why Shouldn't Pyongyang Join Nuclear Club?
U.S. Official Outlines Concerns About Iran's Nuclear Program