It seems like an old-fashioned disease that was conquered long ago. Or else TB is seen as a "marginal" illness affecting only the down-and-out.
Paul Nunn, of the World Health Organization, says those prevailing attitudes are two big reasons why too little is being done to combat the problem -- especially in Eastern Europe and the CIS.
"I think there are two aspects and one of them particularly in the former Soviet Union. One is that [there is the feeling that] it's a disease that we finished with centuries ago, isn't it surely?" Dr. Nunn says. "That is the prevailing view in the West and it couldn't be more mistaken. In parts of Eastern Europe, there's also a tendency to think it's a social disease, therefore it's related to people who in a sense 'don't matter': the homeless, the alcoholics, the drug users. And therefore, the commitment on the part of the health authorities is not always as strong as it should be."
Hits Rich As Well As Poor
The recent case of an American lawyer, found to have a highly resistant form of TB, who was quarantined after flying across the Atlantic on a crowded plane, illustrates the potential public health threat of the disease. It also shows that TB can strike the affluent as well as the very poor.
The WHO says it's high time governments changed their attitude to avoid a public health epidemic.
"'It's a disease that we finished with centuries ago, isn't it surely?' That is the prevailing view in the West and it couldn't be more mistaken." -- Paul Nunn, WHO
So today it has launched a two-year plan to help slow the spread of drug-resistant tuberculosis across the globe.
The plan is partly an appeal to global governments to set aside money for TB research and treatment and partly a blueprint offering concrete recommendations for countries interested in establishing effective TB treatment programs.
Every year, almost 9 million people contract TB. Of them, 400,000 come down with multi-resistant (MDR-TB) or even extremely multi-resistant forms (XDR-TB) that require long courses of treatment with expensive new-generation drugs.
Many of the countries of the former Soviet Union have seen big rises in drug-resistant strains and are doing little to stop the spread.
In countries like Russia, Kazakhstan, and Uzbekistan, multi-resistant TB cases already account for some 20 percent of all TB cases.
The reason multi-resistant strains of TB have developed so fast -- especially across the former Soviet Union -- is largely due to the breakdown of the public health system at the end of Communism.
Patients Not Getting Fully Treated
Treating "standard" cases of TB requires months of care, constant monitoring, and often the isolating of patients until they are fully recovered.
In many countries, the health authorities lack the resources to do this, so patients do not receive the full course of treatment they need.
Partial or insufficient care can lead the TB bacteria to develop resistance to standard drugs and that is how multi-resistant strains arise.
"Generally speaking, in the former Soviet Union, on the good side we have a well-educated health workforce and sufficient manpower to do this kind of thing properly," Dr. Nunn says. "The problems arise, I think, in the organization of that manpower and in ensuring there is a committed approach to identifying and treating drug-resistant disease. That is an issue."
That committed approach, according to the WHO, includes the establishment and maintenance of more laboratories to identify TB cases as well as treatment facilities to care for patients.
The UN agency says it is ready to advise governments on how best to deploy those networks.
One thing is clear: it will not be cheap.
"We generally recommend that the treatment for tuberculosis be free to the patient at the point of use. That is a principle of treatment of public health diseases," Dr Nunn says. "The patients should not be paying for their treatment. And given that the drugs alone for multi-drug--resistant disease could cost as much as $8,000- $9,000 per year, then I think it's very important that the state should be very much involved in ensuring that the drugs are available free to patients."
But the alternatives are far scarier.
If the TB epidemic is allowed to spread and multi-resistant strains take over, the world really could return to the 19th-century era of sanatoriums, when catching TB more often than not meant a death sentence.
RFE/RL Reports On AIDS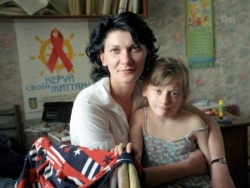 An HIV-positive Ukrainian woman and her daughter (epa)

FACES OF THE EPIDEMIC: HIV-infection rates continue to soar in many parts of RFE/RL's broadcast region, from Ukraine and Russia to Central Asia. RFE/RL frequently reports on the problems associated with the pandemic and efforts to combat them.
RELATED ARTICLES
China Steps Up Fight Against Spreading Epidemic
Iranian Brothers Change The Face Of HIV, Drug-Addiction Treatment
Drug-Treatment Effort Targets HIV/AIDS In Afghanistan
Tatarstan Clinic Is Bold Exception In Russia's HIV Battle
Fourteen Kazakh Children Infected With HIV In Hospitals
UNAIDS Head On Epidemic In CIS
Russia's 'Miss Positive' Puts Public Face On Battle With HIV/AIDS