WHO Warns Of Drug-Resistant Tuberculosis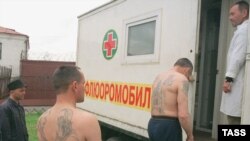 Russian prisoners being examined for tuberculosis (file photo) (ITAR-TASS) March 22, 2007 (RFE/RL) -- The World Health Organization (WHO) says the rise of a drug-resistant strain of tuberculosis (TB) is threatening efforts to bring the global epidemic of ordinary TB under control.
The statement comes ahead of World Stop TB Day on March 24.
The WHO said eradicating tuberculosis could take centuries without better drugs and diagnostic techniques. The organization also warned that drug-resistant TB is now widespread in the Western Pacific region, with high levels documented in China, Mongolia, and the Philippines.
But it also said the number of people infected with TB had leveled off -- a development Marcos Espinal, executive secretary of the WHO's Stop TB Partnership, called "the first good news about TB" in many years.
The International Committee of the Red Cross, meanwhile, said more must be done to recognize the scale of the TB epidemic in the world's prisons. The Red Cross said prisoners were 100 times more likely to be infected with tuberculosis than other people.
The Red Cross has been working to fight TB in prisons in the Caucasus, Central Asia, and Africa. It said the mortality rate among TB patients in prisons in the South Caucasus had been reduced from 16 percent to 5 percent since 1995.
(with agency reports)