Iraq: Plan To Arm Additional Sunni Groups Poses Risks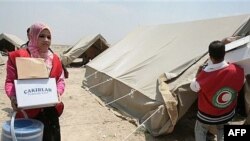 Iraqi Red Crescent workers deliver supplies to a displaced-persons camp in Diyala Governorate (AFP) June 22, 2007 (RFE/RL) -- As the U.S. troop surge in Iraq moves into its fifth month and shows only slight improvement reducing insurgent attacks, the U.S. military has announced a new approach. On June 11, "The New York Times" reported Washington is planning to arm some Sunni militant groups who said they would be willing to fight alongside coalition and Iraqi forces against Al-Qaeda in Iraq.
This tactic has been employed before in Iraq with a great degree of success, but the unpredictability of arming Sunni groups that have in the past opposed the Iraqi government and even attacked U.S. forces is filled with risks.
Success In Al-Anbar
U.S. military commanders have argued that they tested the tactic of arming Sunni Arab groups in the once-restive Al-Anbar Governorate where Al-Qaeda in Iraq had a firm foothold in the region. The governorate was considered the most dangerous place in Iraq. However, Sunni tribal groups that once considered Al-Qaeda in Iraq an ally have turned on the group because of its indiscriminate killings and its imposition of an austere repressive version of Islam.
Prime Minister al-Maliki has said the tactic might be destabilizing and the responsibility of arming any group should lay with the Iraqi government, not the United States.
Sunni tribal leaders, given weapons and money by the Iraqi Army, recruited thousands of men to fight alongside Iraqi government forces against Al-Qaeda in Iraq. The result says General David Petraeus, commander of U.S. forces in Iraq, is violence in the Al-Anbar governorate has declined precipitously.
"What's taken place in Al-Anbar is almost breathtaking," Petraeus told CNN on June 8. "In the last several months, tribes that turned a blind eye to what Al-Qaeda was doing in that province are now opposing Al-Qaeda very vigorously. And the level of violence in Al-Anbar has plummeted, although there clearly is still work to be done."
The U.S. military now plans to arm other Sunni groups, primarily in the Diyala and Salah Al-Din governorates where Washington believes Al-Qaeda has taken root, in the hopes that the same results will follow.
Undermining The Iraqi Government
While this tactic might be successful in thwarting Al-Qaeda in Iraq, it has the potential to undercut the Iraqi government and its armed forces. The tacit message that this approach sends is that after four years U.S.-trained Iraqi forces are incapable of controlling the country.
The tactic could also undermine Iraqi Prime Minister Nuri al-Maliki who has opposed arming Sunni groups. In a June 16 "Newsweek" interview he said it might be destabilizing and the responsibility of arming any group should lay with the Iraqi government, not the United States.
"They [the U.S. military] make mistakes by arming tribes sometimes, and this is dangerous because this will create new militias," al-Maliki said. "We want to arm some tribes that want to side with us, but on the condition that we should be well aware of the tribe's background and sure that it is not connected with terror. It should be under the control of the [Iraqi] state and we should have guarantees that it will not turn into a militia."
Moreover, for years the United States has stressed that one of the main impediments to establishing security in Iraq has been the presence of illegally armed militias. Arming Sunni groups, essentially creating militias, completely undercuts the aforementioned objective and undermines the legitimacy of the Iraqi government forces.
Washington has repeatedly stated that only Iraqi government forces should be allowed to carry weapons. Therefore, this approach endorses illegally armed groups and gives justification for the likes of radical Shi'ite cleric Muqtada al-Sadr to maintain their militias.
Short-Term Gains, Long-Term Risks
There are certainly obvious benefits of arming Sunni Arab groups to combat Al-Qaeda in Iraq, as the Al-Anbar model has shown. In fact, this tactic is currently being employed in Operation Arrowhead Ripper, the offensive against Al-Qaeda in Iraq launched on June 19 in the Diyala Governorate. "The Washington Post" reported on June 21 that several Sunni groups that in the past have fought against U.S. forces -- including the 1920 Revolution Brigades, the Mujahedin Army and the Islamic Army -- were now working alongside Iraqi and U.S. forces against Al-Qaeda in Iraq in Diyala.
The groups are now under an umbrella organization called the United Jihad Factions Council and have been issued special insignias to distinguish them from Al-Qaeda in Iraq fighters. Preliminary signs indicate the operation as being a success as more than 40 suspected Al-Qaeda in Iraq fighters have been killed in the first two days of the offensive.
However, the tactic is fraught with risks and the short-term gains that may come with vanquishing Al-Qaeda in Iraq may in time be overshadowed by rising ethnic and sectarian tensions among the Shi'a, Sunnis, and Kurds. In Al-Anbar Governorate, the population is exclusively Sunni, so the issues of sectarianism inherent in arming Sunni groups were largely absent. The intense dissatisfaction and animosity the Sunni tribes felt toward Al-Qaeda in the region was easily co-opted by the United States and a partnership of convenience resulted without significant risk of blowback.
However, Diyala Governorate -- with its sizable Shi'ite and Kurdish populations -- presents an altogether different set of issues. Armed Sunni groups may be perceived as a threat by the Shi'a and Kurds, who may in turn acquire arms of their own, increasing the likelihood of Iraqi-on-Iraqi violence.
Moreover, if Al-Qaeda in Iraq is removed from the theater, how will the Sunnis then be disarmed? It is highly unlikely these groups will voluntarily lay down their weapons. Indeed, with Al-Qaeda in Iraq out of the way, the Sunni groups may realize that their relationship of convenience with the coalition has run its course and resume their battle of liberation against the U.S.-led "occupation," only perhaps this time with better arms and tactics.
Finally, given the spiraling sectarian violence, providing arms to Sunni Arab groups that have in the past viewed the Iraqi government as illegitimate could be seen as a step toward an all-out civil war that could ultimately lead to the partitioning of the nation. While the Sunni groups may have changed their position and turned on Al-Qaeda in Iraq, they have steadfastly maintained their opposition to the Iraqi government and the presence of foreign troops in the country.
Mahmud Uthman, a Kurdish legislator, warned of this in an interview with "The Washington Post" on June 18. "They [Sunnis] take arms, they take money, and in the future they will be a problem," he said. "Politically, they are still against the Americans and the Iraqi government."
Searching For A Way Forward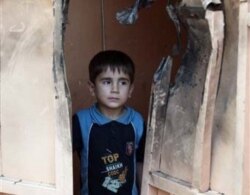 A boy looks out from his Baghdad home (AFP)
LOOKING BEYOND AL-MALIKI: RFE/RL Iraq analyst Kathleen Ridolfo led an RFE/RL briefing about the changing political landscape in Iraq, focusing on efforts to gain the upper hand in the event that the government of Prime Minister Nuri al-Maliki falls.
LISTEN
Listen to the entire briefing (about 70 minutes):

Real Audio
Windows Media
RELATED ARTICLES
Opposition Appears Set On Bringing Down Al-Maliki
Former Premier Pushing New Plan For Reconciliation
Al-Sadr Prepares For Post-Coalition Era
Sunni Ultimatum Rocks Al-Maliki's Position


THE COMPLETE STORY: RFE/RL's complete coverage of events in Iraq and that country's ongoing transition.