The Russian Foreign Ministry confirmed the transfer in a statement today.
U.S. sanctions had left the funds frozen in a Macau bank. Pyongyang, now set to receive the money, had made the issue a key condition for fulfilling a February disarmament agreement.
The news comes as Christopher Hill, the U.S. nuclear envoy to North Korea, told reporters in Tokyo that North Korea said it will shut down its controversial Yongbyon reactor, probably within three weeks.
Hill, who visited Pyongyang this week, said the shutdown would take place after North Korea reached agreement with the UN's nuclear watchdog on monitoring the operation.
"Shutting down the reactor does not solve all our problems," he said. "It is just a beginning. But in order to solve all our problems we're going to have to make this beginning and get through this step and move on to other steps."
Hill's trip to Pyongyang, the first by a senior U.S. official in five years, was described by North Korea's state media today as "productive."
(with material from agency reports)
Battling Nuclear Proliferation
Battling Nuclear Proliferation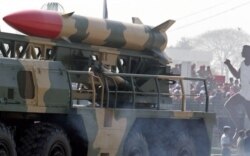 A nuclear-capable, short-range missile on display in Islamabad, Pakistan, in March (AFP)


IS PROLIFERATION INEVITABLE? On June 18, RFE/RL hosted a briefing featuring Henry Sokolski, executive director of the Nonproliferation Policy Education Center. Sokolski discussed the challenges to the global nonproliferation regime and what Western countries can do to strengthen it.
LISTEN
Listen to the entire briefing (about 60 minutes):

Real Audio
Windows Media
RELATED ARTICLES
El-Baradei Says Attack On Iran Would Be Catastrophic
Rogue Nuclear Programs Threaten New Arms Race
Why Shouldn't Pyongyang Join Nuclear Club?
U.S. Official Outlines Concerns About Iran's Nuclear Program