Amnesty Urges Investigation Of Secret Detention Sites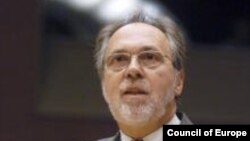 Council of Europe parliamentarian Dick Marty is the author of the report (file photo) (Council of Europe) June 23, 2007 (RFE/RL) -- Amnesty International is calling on Poland and Romania to conduct independent investigations concerning alleged CIA flights and secret detention centers on their territories.
The human-rights watchdog made the call as the Parliamentary Assembly of the Council of Europe (PACE) is preparing a June 27 debate on the issue.
A new Council of Europe report that accuses Romania and Poland of allowing the CIA to operate secret prisons within their borders where agents interrogated suspected terrorists.
Several Romanian and Polish officials named as having knowledge of such affairs have vehemently denied the accusations and criticized the report for lacking evidence.