Al-Hashimi, whose home was raided today, is the first Iraqi cabinet minister to face arrest.
Iraqi government spokesman Ali al-Dabbagh said the minister is suspected of being the mastermind of a February 2005 ambush on then parliamentary candidate Mithal al-Alusi.
Al-Alusi, a secular Sunni Arab, was unharmed in the attack, but his two sons were killed when armed men fired on his car just outside his Baghdad home.
Al-Dabbagh said the two men who carried it out confessed they took orders from al-Hashimi.
Political allies of al-Hashimi, who was not at his home when it was raided, called the allegations against the minister "fabricated."
In an interview with RFE/RL's Radio Free Iraqi, al-Alusi reiterated his charge that al-Hashimi was behind the assassination attempt. He said he believes al-Hashimi has fled to the heavily fortified Green Zone.

"We know that he is now in the Green Zone, and we also know that he is currently under the protection of a highly positioned official in the Iraqi government," al-Alusi said, without elaborating.
Israeli Talks
Al-Alusi was a leading figure in the secular Iraqi National Congress party of Ahmad Chalabi, the former exile and Pentagon ally. But he was expelled from that party earlier in 2004 after meeting for talks with Israeli officials in Jordan.
It's unclear what motives anyone would have for trying to kill him, but the Israeli talks took place shortly before the attempt on al-Alusi's life. Al-Alusi was later elected to parliament as head of his own party, the Iraqi Nation Party.
Al-Hashimi, for his part, is a Sunni Arab professor of Islamic studies.
His party, the Iraqi People's Conference, has condemned the arrest warrant and raid. It also warned the Shi'ite-dominated government of Iraqi Prime Minister Nuri al-Maliki to avoid "playing with fire by continuing the policy of fabricating lies to exclude Sunni politicians and officials from the Iraqi arena."
Al-Hashimi's party is affiliated with the Iraqi Accordance Front, Iraq's largest Sunni political bloc. It holds 44 seats in the 275-member parliament.
Accordance Front spokesman Muhanad al-Issawi today said, "Iraqi authorities have issued an arrest warrant against al-Hashimi over fabricated terrorism charges."
Authorities have also made other accusations.

Government spokesman al-Dabbagh noted today in his remarks to reporters that at the time of the attack on al-Alusi, the culture minister was working as an imam in a Baghdad mosque. He did not elaborate, but al-Alusi told Radio Free Iraq that the mosque in question is known for inciting violence and terrorism:
"People living in the neighborhood of Hattyn and Kalat in Baghdad, where I used to live and where Mr. Asad al-Hashimi, who worked in a local mosque, lived -- these people [identified] killers and criminals," al-Alusi said. "And those killers and criminals -- or some of them -- indicated that the orders came from Mr. As'ad al-Hashimi, then leader of the mosque community and later minister of culture."
Hotel Attack
Today's developments come as Iraqi officials are reeling from a major security breach at a key Baghdad meeting on June 25 of U.S.-backed Sunni and Shi'ite tribal chiefs.
A suicide bomber penetrated at least three levels of security to slip into Baghdad's busy Al-Mansur Hotel, which is also the base for many foreign journalists.
RFI reported that speculation is now swirling that the bomber must have had some official help to get into the hotel, where he blew himself up in the midst of the gathering of tribal sheiks.
The attack undermined efforts to forge a front against the extremists of Al-Qaeda in Iraq.
Four sheikhs were among the 13 victims, including sheikhs associated with the Al- Anbar Salvation Council, an alliance of Sunni tribes that have turned against Al-Qaeda in Iraq in a bid to drive the group from the western Al-Anbar Governorate.
U.S. Ambassador to Baghdad Ryan Crocker and General David Petraeus, the commander of U.S. forces in Iraq, called the hotel bombing "wanton slaughter that shows Al-Qaeda's complete lack of respect for life."
(with material from AP, Reuters)
Searching For A Way Forward
Searching For A Way Forward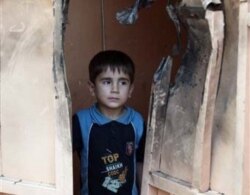 A boy looks out from his Baghdad home (AFP)
LOOKING BEYOND AL-MALIKI: RFE/RL Iraq analyst Kathleen Ridolfo led an RFE/RL briefing about the changing political landscape in Iraq, focusing on efforts to gain the upper hand in the event that the government of Prime Minister Nuri al-Maliki falls.
LISTEN
Listen to the entire briefing (about 70 minutes):

Real Audio
Windows Media
RELATED ARTICLES
Opposition Appears Set On Bringing Down Al-Maliki
Former Premier Pushing New Plan For Reconciliation
Al-Sadr Prepares For Post-Coalition Era
Sunni Ultimatum Rocks Al-Maliki's Position


THE COMPLETE STORY: RFE/RL's complete coverage of events in Iraq and that country's ongoing transition.