Iranian and Western media report that the official warning came a day after the government announced the introduction of gas rationing on state television on June 26 just a few hours before it went into effect.
Rationing Sparks Protests
Citizens reacted immediately by rushing to gasoline stations to fill their gas tanks ahead of the midnight start of the rationing. Many were angry and in some cases reacted by burning gas stations, attacking banks and supermarkets, and chanting slogans against Iranian President Mahmud Ahmadinejad.
"What can I do with three liters? Set myself on fire? Please let the authorities hear my voice that we cannot live like this. Life has become very difficult for us, I cannot support my wife and children anymore."
The unrest resulted in the arrest of some 80 people. Unconfirmed reports say that several people were injured and one woman was killed in southwestern Iran. The unrest, described by some as "gasoline riots," reportedly also led to the temporary closure of the country's mobile phone text messaging network by authorities who were trying to prevent unrest and protests from spreading.
The website roozonline.com reported that Iran's Supreme National Security Council reacted by ordering media to abstain from reporting on the damage, fires, and casualties that may have resulted from the protests over the rationing plan.
In recent months, Iran's top security body has also put journalists under pressure not to criticize the country's nuclear policies and not to depict the Iranian government's dealings in the nuclear crisis as unsuccessful.
Several Tehran-based journalists contacted by RFE/RL refused to be interviewed about the rationing and its results.
Banning The Story
A reporter from the daily "Sharq" told Radio Farda that journalists have been told not to talk to foreign media about the rationing situation and other related issues.
Despite the warning, reformist newspapers criticized the government's surprise move and said it disrupted people's life and created confusion.
Ruzbeh Mir-Ebrahimi, a pro-reform journalist and blogger, criticized the "security pressure" on the media. He wrote in his blog shabnameha.net that many of the pictures that Iran's ISNA news agency had published on its website about the gas-rationing riots were "predictably" removed. He said he will publish "the censored pictures," adding that "the truth cannot be erased."
Other bloggers and websites have also covered the post-gas-rationing chaos and violence and some have even posted pictures of the torched stations, longs queues of citizens, and traffic jams.
In contrast, Iranian state television did not initially mention the violence that resulted from the introduction of quotas and advised people to remain calm and not to worry about the rationing. The TV reports also interviewed several citizens who expressed support for the plan.
The hard-line daily "Keyhan" blamed opponents of the government for the unrest in Tehran and other cities.
Officials have said that "enemies" and "opportunist elements" were behind the damages from the protests.
Anger At Ahmadinejad
A hard-line legislator, Amir Reza Khadem, was quoted as saying that Iran's enemies call the gas-rationing plan the "Islamic Republic's Achilles' heel," but he added that the overall results of the implementation of the plan will be positive.
Many observers believe the plan poses a threat to Ahmadinejad, who had promised to improve people's lives and share oil income fairly. Yet in recent months prices have gone up, and discontent over Ahmadinejad's economic policies has been growing.
Here is how a Radio Farda listener sees the situation: "[Authorities] raise the price of gas, arrest people in the streets; they have forgotten about freedom of expression, press freedom, and other similar issues. If they raise the price of gas they devalue themselves."
The new rationing plan allows only about three liters of gas per day for private cars. Taxi drivers will be allowed to buy 800 liters a month at a subsidized, lower price.
Many low-income Iranians or jobless citizens use their vehicles as a private taxi to generate income. Those people will now have a more difficult time earning a living.
Among them is this man in Tehran: "What can I do with three liters? Set myself on fire? Please let the authorities hear my voice that we cannot live like this. Life has become very difficult for us, I cannot support my wife and children anymore."
The rationing plan is an attempt by Iran's government to curb consumption and reduce enormous state spending on gasoline imports.
Despite Iran's status as a major crude oil producer, the country lacks the necessary refining capacity and must import about 40 percent of its gasoline.
Some newspapers have criticized the government for taking citizens by surprise and implementing the plan without giving proper prior notice.
There has been also criticism from some legislators who have said the plan causes public discontent.
The Iranian Economy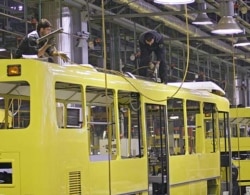 Buses being produced at a factory in Tehran (Fars)

IN NEED OF DIVERSIFICATION. Populist Iranian President Mahmud Ahmadinejad is having trouble fulfilling his promises to put the country's petrodollars on the plates of average citizens. Inflation and unemployment remain high and the economy is dominated by the energy sector.
RELATED ARTICLES
Foes Challenge President's Economic Rhetoric
Power Cuts In An Energy-Rich Land Spark Protests
Government Balks At Gasoline Rationing
Weak Economy Challenges Populist President
ARCHIVE
RFE/RL's
coverage of Iran
.
SUBSCRIBE
For weekly news and analysis on Iran by e-mail,
subscribe to "RFE/RL Iran Report."