The two met after Chavez arrived in Minsk during a regional tour that has already taken him to Russia.
"We are making serious progress in developing relations," Chavez said. "We need to work out how to raise our cooperation to the next level."
Lukashenka's website quoted him as telling Chavez, "It's with pleasure I note that relations between our two countries are developing in a dynamic and fruitful manner. They have reached the level of strategic partnership."
Chavez began his trip in Moscow June 28 by accusing the United States of "imposing tyranny" and calling on Russia to help lead a global revolution against Washington.
He also had talks with Russian President Vladimir Putin and a closed-door meeting earlier today with Russian lawmakers.
Lawmakers told reporters that Chavez expressed interest in buying Russian submarines to counter what he described as U.S. threats.
Chavez is scheduled to return to Russia for a second meeting with Putin on June 30, before heading to Iran.
Last year, on a trip with a similar itinerary, Chavez described Lukashenka as a friend and said the two would join in creating a "fighting team."
(with agency reports)
Politics In Belarus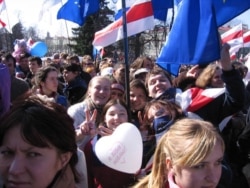 Demonstrators in Minsk on March 25 (RFE/RL)

WHAT HAPPENED? Belarus scholar Vitali Silitski and RFE/RL Belarus analyst Jan Maksymiuk took a look a how Belarus has changed since mass demonstrations in Minsk in March 2006 failed to produce meaningful change in that country.
LISTEN
Listen to the entire briefing (about 70 minutes):

Real Audio
Windows Media
RELATED ARTICLES
Has Regime Adopted New Tactics Toward Opposition?
Lukashenka Is Firmly In His Saddle, Despite A Bumpier Road
Why Can't Belarus's Opposition Just Get Along?
SUBSCRIBE
For weekly news and analysis on Belarus, Ukraine, and Moldova by e-mail,
subscribe to "RFE/RL Belarus, Ukraine, And Moldova Report."