The comments came as Chavez began a four-day visit to Russia, the first stop of a regional tour that will also take him to Belarus and Iran.
"They don't want Russia to keep rising, but Russia has risen again as a center of power and we, the people of the world, need Russia, and China, to become stronger every day," Chavez said at the opening of a Latin American cultural center in Moscow. "History is moving, and it's moving at a gallop."
The Venezuelan leader is scheduled to have dinner today with Russian President Vladimir Putin.
Another Weapons Shopping Spree?
Chavez said weapons purchases are high on his agenda.
During his last trip to Russia, in July 2006, Chavez proved an enthusiastic shopper, purchasing fighter jets, combat helicopters, and Kalashnikov assault rifles in a deal worth more than $1 billion.
Arriving in Moscow this morning, the Venezuelan leader warmly welcomed the opportunity for a fresh round of talks.
"We arrived as usual with a deep trust in our cooperation and in our union and with a big enthusiasm for Russia, for the new Russia of the 21st century," Chavez said.
Last year's deal-making between Chavez and Putin raised anger in the United States, where relations with both Russia and Venezuela were growing steadily worse.
But this year's Putin-Chavez visit comes just days before the Russian president travels to the United States for a July 1-2 summit with President George W. Bush aimed at mending ties.
Chavez's comments today notwithstanding, the Kremlin appears to be taking steps to minimize U.S. irritation over the Venezuelan leader's visit. A plan for Chavez to address parliament, for example, has been canceled.
Energy Talks
In addition to arms sales, the talks between Chavez and Putin are expected to focus on energy issues.
The two energy-rich countries are reportedly pursuing development plans in Venezuela, including a Latin American pipeline running through six countries.
Putin may also seek support from Chavez on a plan for Russia to host next year's meeting of the Gas Exporting Countries Forum. This is seen as part of efforts to form a gas export cartel similar to Organization of the Petroleum Exporting Countries (OPEC).
On June 30, Chavez and Putin are to attend a horse race in the southern city of Rostov-na-Donu.
From there, the Venezuelan leader travels to Belarus and Iran.
Russian Arms Exports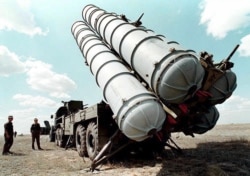 Russia's advanced S-300 air-defense system (epa file photo)

BOOM TIMES: In 2005, Russia sold more than $6 billion in weapons to more than 60 countries around the world. The state arms exporter says it has $17 billion in orders in hand....(more)
RELATED ARTICLES
Putin Pushes Greater Arms Exports
Energy, Weapons Bring Moscow Closer To Algiers
Will Russia's Oil Windfall Go To Military?
Putin Stresses Need For Strong Military
ARCHIVE
RFE/RL
coverage of Russia
. RFE/RL web special on
U.S.-Russian relations
.
SUBSCRIBE
For news and analysis on Russia by e-mail,
subscribe to "RFE/RL Russia Report."