U.K. Government In Emergency Talks After Bombs Found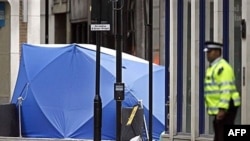 Police at Haymarket in London where the first vehilce with a "viable explosive device" was found (AFP) June 30, 2007 -- The British government has called emergency talks after police foiled a double car-bomb plot in central London on June 29.
The talks come after police in London opened a terrorism investigation following the discovery of two large car bombs filled with fuel and nails.
The bombs were discovered in the capital's busy entertainment district.
Officials said it was not yet known who was responsible, but said the two cars were "clearly linked" in a plot designed to cause death and destruction.
The capital's police are on the alert today ahead London's annual gay-pride parade.
Its organizers have met with police and say the parade will go ahead as planned.
The bombs were planted ahead of next week's anniversary of the July 7, 2005, suicide bombings, which killed 52 people on London's transport network.
(compiled from agency reports)