Iran's officials mitigate their red-line position with offers to keep talking and to clarify certain questions the International Atomic Energy Agency (IAEA) has over its nuclear program.
Some officials have been highlighting the benefits of continued talks since Iran's top negotiator, Ali Larijani, met twice in Europe with IAEA head Muhammad el-Baradei and with EU High Representative for Common Foreign and Security Policy Javier Solana in late June.
The rapporteur of the Iranian parliament's National Security and Foreign Policy Committee, Kazem Jalali, set out a seemingly moderate position in a piece for the daily "Etemad-i Melli" on June 25. Jalali said Iran has a right to produce fuel and will not tolerate a halt to its program. But he added that Tehran is -- "as Ali Larijani...has declared" -- prepared to undertake "any cooperation with the [IAEA] to resolve remaining issues."
"Tehran does not intend to be furtive" in its nuclear efforts," Jalali said, and will provide the "requisite answers" to "questions that have arisen."
Jalali alluded to "realities" about Iran's technical progress that Iranian officials say have been accepted by el-Baradei. He claimed the West knows it has a choice between a "transparent nuclear Iran" and a secretive one.
Jalali added that a "continuation of talks would be very useful in removing questions and all European parties today welcome talks with Iran." He said Iran's parliament has passed a bill to restrict cooperation with the IAEA, but that the move was a response to the case's referral to the UN Security Council. Jalali's suggestion appeared to be that Iran has shown flexibility if -- as Iran has urged repeatedly -- the case is returned to the IAEA and its more "technical" approach.
IAEA Inspections To Continue
Cooperation with the IAEA was also stressed by Iranian Deputy Foreign Minister Mehdi Mostafavi. Mostafavi said on June 26 that "there are no problems" with ongoing IAEA inspections and said that Larijani had assured el-Baradei that Iran is ready for "more cooperation" with the UN nuclear watchdog.
Mostafavi said inspectors due to arrive in Iran are "mainly at the specialist and technical level." An IAEA team has been invited to discuss how Iran and the IAEA might clarify questions over Iran's program that are cited as possible signs of Iranian military-related activities. Mostafavi stressed that Iran rejects the enrichment-suspension demand, but would engage in confidence building. "We are ready for negotiations," he added.
Like other officials, Mostafavi said the Security Council is not -- in Iran's opinion -- the place to resolve the nuclear impasse.
But conservative politician Hamid Reza Taraqqi deplored reported moves to push ahead with discussions of more UN sanctions against Iran, even as talks between Larijani and Solana continue.
Resisting Pressure
Taraqqi said this was a means of pressuring Iran and extracting concessions. Taraqqi said Iran is not afraid of threatened sanctions that would likely have no effect, and said enrichment suspension is effectively "off the agenda."
Academic Piruz Mojtahedzadeh said the nuclear dossier requires time and talks to be resolved. He said the chief achievement of talks between Larijani and Western officials has been the continuation of talks themselves.
Mojtahedzadeh suggested that el-Baradei's comments on the need to recognize the reality of Iran's nuclear advances was made with the implicit approval of some Western countries -- suggesting a new Western position. He claimed that "everyone has reached the conclusion" that talks are the only way toward a resolution, adding that "talk of confrontation from America...is really for publicity."
Mojtahedzadeh heads the Urosevic research body in London and is a university lecturer in Tehran who usually spells out Iranian "national-interest" positions. He expressed skepticism toward some Iranian politicians' claims of a new division among Western powers known as the 5+1 (the five permanent members of the Security Council plus Germany) turning into the "3+3" -- with Great Britain, France, and the United States favoring tougher measures against Iran, while China, Russia, and Germany favor dialogue.
Buying Time?
Time is arguably more valuable to Iran than to the West. Iran wants time to move as its nuclear case remains -- at worst, as viewed from Tehran -- the focus of ongoing deliberations. Its immediate aim would be to block any progress toward another set of UN sanctions.
In that scenario, officials and politicians might have reason to welcome the renewal of talks with the EU, as well as el-Baradei's continuing involvement in the case -- and his seemingly accommodating pronouncements.
Iran might congratulate itself for its ability to maintain some form of intermittent dialogue for so many years -- years in which it has continued to develop an ostensibly peaceful but contested nuclear program.
Tehran's other diplomatic achievement has arguably been its ability to leave the diplomatic onus on Washington -- which is often obliged to react and express skepticism about the usefulness of talks. As a result, Tehran often appears willing to resolve problems and the United States often seems intransigent in its demands.
Indeed, that was the impression one might have had of remarks on June 25 by U.S. State Department spokesman Tom Casey, who expressed skepticism of Iran's record of cooperation and clarification. The same might be argued of Secretary of State Condoleezza Rice's dismissal of any talk of a new, more lenient approach among Western allies to Iran as simply "chatter."
Tehran seems pleased that it has won itself a little more time without the imposition of a new set of sanctions.
Iran: Missiles And More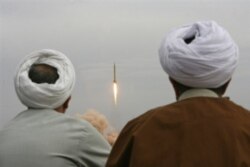 Iran tests its Shahab-3 medium-range missile in November 2006 (AFP)


HOW LONG A REACH? As the debate on missile defense sharpens, Tehran continues to develop its Shahab-3 missile, which is already capable of reaching some parts of Europe.... (more)
RELATED ARTICLES
Independent Nuclear Physicist Evaluates Iran's Nuclear Program
Iran Rocket Launch Another Show Of Prowess
How Close Is Iran To Getting Nuclear Bomb?
Iran's Super Weapons Claims Met With Skepticism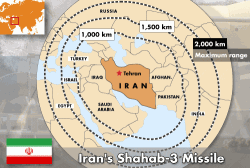 Click to enlarge the image.