Van der Linden called "unacceptable" the move by Armenian lawmakers to block foreign broadcasts.
"It is unacceptable that there is any restriction," he said. "We will have also a monitoring report on Armenia, and [the proposed restrictions] will be, without any doubt, a part of this report. And it is really important that we have an opinion on facts and figures, and that we can discuss this in the Council of Europe during the next debate on the monitoring report."
Lawmakers in Yerevan on July 3 tried but failed to pass draft legislation that would have place strict limitations on foreign broadcasters, including RFE/RL.
Van der Linden, who is on a seven-day tour -- July 4-10 -- of the South Caucasus, also said he was disappointed to see how little progress had been made by either Armenia or Azerbaijan in resolving the dispute over Nagorno-Karabakh, a predominantly ethnic-Armenian region of Azerbaijan.
"It was a disappointment that I, after two years, didn't see real progress," van der Linden said. "On the contrary, I was not optimistic, I am not optimistic after my talks in Armenia, and I will see what happens in Azerbaijan. It is necessary that they solve this problem for the whole region, for the future of the country."
Speaking ahead of his visit, van der Linden said the trip is aimed at helping to resolve the region's frozen conflicts, including Nagorno-Karabakh and Georgia's South Ossetia and Abkhazia disputes.
Van der Linden is due to travel on July 7 to South Ossetia, where tensions have been heightened following a series of mortar attacks that Russia and South Ossetian officials blamed on Georgia.
Tbilisi has denied any role in the attacks.
Azerbaijan will be the final stop on van der Linden's tour.
FURTHER READING
Is It A Region?

Experts and residents from the three South Caucasus countries debate whether they form a coherent region.

more

Is Russia Losing Influence?

An RFE/RL roundtable looks at Moscow's policies toward the three countries of the South Caucasus.

more
The Kremlin Looks At Kosovo...And Beyond
The Kremlin Looks At Kosovo...And Beyond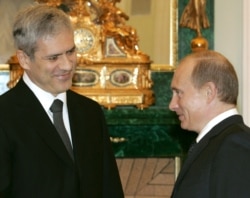 Russian President Vladimir Putin (right) greets Serbian President Boris Tadic in the Kremlin in November 2005 (TASS)
WILL THE KREMLIN BACK INDEPENDENCE? As the drive for independence grows in the Serbian province of Kosovo, the international community is speculating on how Russia, a veto-wielding member of the UN Security Council, will act. On September 22, Nicholas Whyte, director of the International Crisis Group's Europe Program, gave a briefing on the subject at RFE/RL's Washington, D.C., office. He speculated on what the Kremlin's "price" might be for agreeing to Kosovo's separation from Serbia.
LISTEN
Listen to the entire briefing (about 45 minutes):
Real Audio
Windows Media
RELATED ARTICLES
Referendums Seen As Kremlin's Master Plan
Independence Votes Popular In The Kremlin
Putin Warns Against Montenegro Model
How Does Moscow View Frozen CIS Conflicts?
Putin Calls For 'Universal Principles' To Settle Frozen Conflicts
ARCHIVE
RFE/RL's coverage of
Kosovo
and
Russia
.
SUBSCRIBE
For news and analysis on Russia by e-mail,
subscribe to "RFE/RL Russia Report."