They worry that the conservatives -- and especially the government of President Mahmud Ahmadinejad and the Guardians Council, the key electoral supervisory and arbitrating body whose head is an outspoken admirer of the president -- will make the participation of reformist aspirants as difficult as possible in order to ensure another conservative-dominated legislature.
These concerns are reinforced by a more belligerent attitude toward government critics by Ahmadinejad's ministers and supporters in recent weeks.
Reformists recognize that the interpretive prerogatives of the Guardians Council regarding the eligibility of would-be candidates have given that body seemingly impregnable power.
Arbitrary Application Of The Law
Javadihesar told Radio Farda on July 2 that such concerns were recently voiced by Expediency Council Chairman Ali Akbar Hashemi-Rafsanjani during a meeting with members of the National Trust Party, of which Javadihesar is a member. Former President Rafsanjani has increasingly become an informal figurehead for a front of reformists, centrists, and government critics over the past two years.
Rafsanjani told National Trust members on July 1 that any moves that undermine election participation -- meaning extensive disqualifications that ultimately reduce the choice of candidates -- would damage the republic, Javadihesar said. Rafsanjani warned against moves he described as illegal or barely legal, referring perhaps to electoral supervisors' legal interpretations that benefit conservative candidates either directly or by hindering reformists.
Javadihesar referred to this selective application of the law in a separate interview with ILNA. He asked why the liberal Freedom Movement of Iran was not allowed to field candidates while the leftist- reformist Militant Clerics Assembly was when both lack formal party permits from the Interior Ministry. He said a "subjective" approach to elections will "seriously harm" public perceptions of Iran's political processes.
Javadihesar said reformists and government critics have no electoral assets other than public support and must make sure election officials respect the law. He added, however, that "conservatives will certainly not agree to healthy elections, and will use all means to realize their goals." He told ILNA that the pre-election vetting process is not transparent and the right-wing faction controls all stages of the process from examining candidacies to counting the votes. That may be why, he stated, conservatives no longer emphasize competitiveness in elections as they used to.
Conservatives Launch Personal Attacks
These concerns come at a time when officials, including government spokesman Gholamhussein Elham and Minister of Culture Mohammad Hussein Saffar-Husseini, have engaged in rare, but not unprecedented, verbal attacks on reformists and preceding administrations, accusing them of being inefficient, materialistic, and indifferent to revolutionary values.
An editorial in the reformist "Aftab-i Yazd" on July 1 cited Ahmadinejad's recent comments at a gathering of state officials, when he denounced the "billions" an unnamed politician had amassed in the 27-28 years he had been in office. The daily observed that the president's tirades against corruption were not unusual but that focusing on one person this way was notable. Aside from Supreme Leader Ayatollah Ali Khamenei, only one man had been in office in one form or another throughout the decades since the 1979 revolution -- Rafsanjani, and it seems likely that Ahmadinejad was referring to him. Rafsanjani has intermittently faced accusations that he allowed or presided over corruption when president in the 1990s.
More disconcerting remarks came during Tehran's Friday prayers on June 29. Ayatollah Ahmad Jannati, the Guardians Council secretary, recalled a conversation a friend had had with a taxi driver during the 2005 presidential election campaign. The taxi driver said his dead mother had told him in a dream that he should vote for Ahmadinejad. The inference was that the forces of "spirituality" or religion favor Ahmadinejad, and this is not the first time the president and the conservatives have linked themselves to religion, or mystical, and pseudo-celestial phenomena.
The remarks were not well received by reformists. Former parliament speaker Mehdi Karrubi said on July 1 that the country could not be run on "dreams," and he asked state officials to keep superstition out of politics. Jannati, reformers must have noted with concern, heads the body whose impartiality is of capital importance in an electoral process it effectively dominates.
Such utterances may indicate that the conservatives, especially those sympathizing with the presidential party, have launched a war of words that reformists have said may be intended to discredit government critics and make their later disqualification -- as disloyal or suspect elements -- easier. Intermittent reports of right-wing disunity and of increasing reformist unity are irrelevant when the main problem reformists could face is mass disqualification before there is any voting.
Reformists Have Little Leverage
Such fears may explain the reformists' increasingly moderate political postures and moves toward the "institutional" center and personalities like Rafsanjani and former President Mohammad Khatami, and Karrubi. But the bold statements from the Ahmadinejad camp suggest that even such senior figures are not necessarily protected from the ire and accusations of the radical right, which is now the only faction in Iran unafraid to make such brazen attacks on its rivals. Reformist personalities have been reduced to merely citing instances of political "misconduct, including the public denigration of individual reformists, and asking the Intelligence Ministry to investigate.
Reformists recognize that the interpretive prerogatives of the Guardians Council regarding the eligibility of would-be candidates have given that body seemingly impregnable power. As past elections have shown, the council is loath to reverse its decisions -- unless directly asked to by Khamenei. When Javadihesar told Radio Farda that reformists and critics must "obligate election authorities to respect the laws," he expressed more of a wish than a firm intention. he knows that the Guardians Council insists everything it does is legal.
Who Speaks For Islam?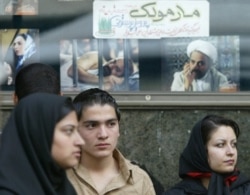 Young Muslims at a movie theater in Tehran (AFP file photo)


CROSS-CULTURAL DIALOGUE: On June 13, RFE/RL hosted a roundtable discussion entitled "Who Speaks For Islam?" The event was hosted by U.S. Undersecretary of State for Public Diplomacy and Public Affairs Karen Hughes and featured scholars of Islam from the United States, Europe, and the Middle East.
LISTEN
Listen to the entire briefing (about 2 hours and 15 minutes):

Real Audio
Windows Media
RELATED ARTICLES
Undersecretary Of State Pushes For More Interfaith Dialogue
Prominent Western Muslim Rejects 'Clash Of Civilizations' Idea
Scholar Warns Europe Of 'Clash Within Civilization'
Antiterrorism Battle Can't Be Won Without Full Muslim Involvement

A thematic webpage devoted to issues of religious tolerance in RFE/RL's broadcast region and around the globe.