Prime Minister Shaukat Aziz said a seven-member negotiating team, headed by former Prime Minister Chaudhry Shujaat Hussain and including ministers and Islamic leaders, will try to persuade Abdul Rashid Ghazi to surrender and to free the women and children inside the mosque compound.
Aziz said "the team will negotiate through a speaker system so that all team members can hear whatever Ghazi says."
Aziz said the government is not sending a negotiating team inside the mosque.
Earlier today, gunfire erupted again near the mosque, as President Pervez Musharraf convened a high-level meeting on how to resolve a nearly weeklong standoff there with alleged terrorists. Pakistan's government says well-armed terrorists wanted for attacks in Pakistan and elsewhere are directing a determined defense against thousands of troops.
Pakistani Muslim clerics say they are making a final bid to avert an assault on the mosque, while authorities have issued what they say is a last warning for the gunmen to surrender.
The building has been surrounded by Pakistani government troops since July 3, when clashes broke out between armed student radicals and government forces.
Pakistani authorities say gunmen continue to hold many students, women, and children as hostages in the mosque. At least 24 people have been killed, including a senior Pakistani military officer.
(compiled from agency reports)
Who Speaks For Islam?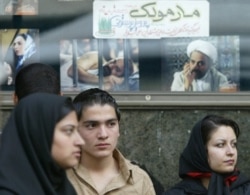 Young Muslims at a movie theater in Tehran (AFP file photo)


CROSS-CULTURAL DIALOGUE: On June 13, RFE/RL hosted a roundtable discussion entitled "Who Speaks For Islam?" The event was hosted by U.S. Undersecretary of State for Public Diplomacy and Public Affairs Karen Hughes and featured scholars of Islam from the United States, Europe, and the Middle East.
LISTEN
Listen to the entire briefing (about 2 hours and 15 minutes):

Real Audio
Windows Media
RELATED ARTICLES
Undersecretary Of State Pushes For More Interfaith Dialogue
Prominent Western Muslim Rejects 'Clash Of Civilizations' Idea
Scholar Warns Europe Of 'Clash Within Civilization'
Antiterrorism Battle Can't Be Won Without Full Muslim Involvement

A thematic webpage devoted to issues of religious tolerance in RFE/RL's broadcast region and around the globe.