Military spokesman General Wahid Arshad told a correspondent of RFE/RL's Radio Free Afghanistan in Peshawar that the officer was killed during an operation to blast holes through the walls surrounding the capital's fortified Lal Masjid or Red Mosque.
"Commando Lieutenant General Haroon Islam was seriously injured during last night's operation. He passed away after being transferred to the hospital. Another commando, General Tariq, was badly injured," Arshad said.
The operation was an attempt by the army to help free hostages including women and children who are trapped inside the mosque.
More than 20 people have been killed in gun battles between security forces and armed religious students since July 3, when the standoff at the mosque began.
'Surrender, Or Risk Being Killed'
Pakistani President Pervez Musharraf said on July 7 that radical religious students holed up inside the Red Mosque should surrender, or risk being killed. Musharraf also said that the students must immediately free women and children allegedly being held as human shields.
Today the mosque's senior cleric, Abdul Rashid Ghazni, said in a statement published by Pakistani newspapers that he and his followers prefer "martyrdom" to the unconditional surrender demanded by the government. Ghazni also said that he hopes the martyrdom of his supporters inside the mosque will spark a revolution in Pakistan.
The cleric denied children were coerced into staying in the compound, and said they remained out of support for his cause.
Pakistani forces have held back from raiding the mosque but there have been clashes around the perimeter, including early today when blasts and gunfire echoed around the city.
Foreign Militants Thought To Be Inside Mosque
Following today's clashes, Pakistan's Deputy Information Minister Tariq Azeem was quoted as saying that Pakistan may rethink its strategy for dealing with the six-day siege of the mosque. Azeem said the resistance put up by the militants shows they have been highly trained.
Azeem said 24 people had been killed in the standoff and about 50 injured people were still in hospital.
He dismissed as "laughable " claims by Ghazi that over 300 people were killed in the fighting early today.
Security officials say two militant commanders from a group linked to Al-Qaeda and to the murder of U.S. journalist Daniel Pearl were now leading the mosque's fighters.
Religious Affairs Minister Ijaz-ul Haq said foreign Islamic militants, including Uzbeks, were among those holed up in the mosque.
Troops surrounded the mosque and seminary after tensions between government security forces and Islamic students erupted into deadly street clashes.
The students have sought to impose strict Islamic law in Islamabad and they have been reportedly involved in the abduction of people accused of running brothels as well as raids on music shops.
More than 1,000 people, mainly students from the mosque's Islamic schools, have fled the complex.
Officials say up to 100 armed militants and a number of students remain inside.
(compiled from agency reports)
Tribal Trouble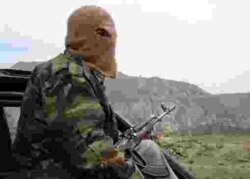 A Pakistani tribesman patrols near Wana in South Waziristan (AFP)
NO MAN'S LAND.
Fighting erupted in March involving tribesmen in Pakistan's fiercely independent western regions, where reports suggest locally backed offensives targetted Uzbek and other foreign Taliban sympathizers.
RELATED ARTICLES
Pakistan: Crackdown Could Pose Threat To Central Asia
Central Asia: Has IMU Reached The End Of The Line?
SUBSCRIBE
For regular news and analysis on Afghanistan by e-mail,
subscribe to "RFE/RL Afghanistan Report."