The fighting between Pakistani tribesmen and foreign militants reportedly started on March 19 near Wana, the capital of the South Waziristan tribal region.
Ismail Khan, a Peshawar-based editor with the Pakistani daily "Dawn," told RFE/RL the two sides traded mortar fire.
"There are still clashes going on and I've been told by government officials that heavy clashes are going on between the two sides, both sides using weapons," Khan said.
Saylab Mas'ud, the leader of the tribal journalist union in Northern Waziristan, told RFE/RL's Radio Free Afghanistan today: "The fighting has been going on for the past three days. On both sides, 106 people are dead and 130 injured. There is a 27-kilometer road between Wana and the Azam Wartsak region. There are about 2000 to 2500 Uzbek militia in the area."
Khan says the clashes are the result of growing tensions between Pakistani tribesmen and hundreds of militants who fled to Pakistan's tribal region following the U.S.-led invasion of Afghanistan in 2001.
Many have died, including at least two children who fell victim to the crossfire. Most of the dead are reportedly Uzbek militants.
Reliable Information Hard To Come By
Pakistani military spokesman Major General Wahid Arshad was quoted as saying by news agencies that "government forces are not involved in the tribal feud."
Khan says it is difficult to get reliable information about the situation in Pakistan's tribal region.
"There is still no independent confirmation of whatever [it is] that is happening, because the telecommunication system is nonexistent as militants had taken away all the equipment from "The telephone exchange in December," he said. and there [has been] no telecommunication access to the tribal region since then."
This week's battle is considered the resumption of earlier clashes that had ended following a cease-fire.
On March 6, clashes between the Pakistani tribesmen and foreign militants resulted in the death of at least 13 Uzbek militants.
Khan says the clashes are the result of growing tensions between Pakistani tribesmen and hundreds of militants who fled to Pakistan's tribal region following the U.S.-led invasion of Afghanistan in 2001.
The region's tribesmen had given the militants refuge but, as Khan said, in recent months some have called for the militants to leave the region.
"The local tribesmen, they were increasingly getting weary of the presence of these foreign militants, who they name for most of the crimes in that area, including extortion, kidnapping, and targeted killings," he said. "These people were getting uneasy and uncomfortable with these Uzbeks."
Most of the Uzbeks in the region are reportedly members of the Islamic Movement of Uzbekistan led by Tahir Yuldashev, whose whereabouts are unknown.
Pakistan has launched several operations in the semiautonomous tribal regions against the militants, resulting in many deaths on both sides.
Yet Afghan and U.S. officials have accused Islamabad of failing to do enough to crack down on the Islamic militants living in the tribal regions.
Afghanistan And Pakistan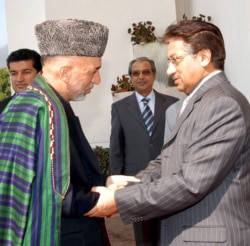 Afghan President Hamid Karzai (left) with Pakistani President Pervez Musharraf in Islamabad in October 2005 (epa)

ACROSS A DIFFICULT BORDER. The contested border between Pakistan and Afghanistan is some 2,500 kilometers long and runs through some of the most rugged, inhospitable territory on Earth. Controlling that border and preventing Taliban militants from using Pakistan as a staging ground for attacks in Afghanistan is an essential part of the U.S.-led international coalition's strategy for stabilizing Afghanistan. Officials in Kabul have been pointing their fingers at Pakistan for some time, accusing Islamabad or intelligence services of turning a blind eye to cross-border terrorism targeting the Afghan central government. Many observers remain convinced that much of the former Taliban regime's leadership -- along with leaders of Al-Qaeda -- are operating in the lawless Afghan-Pakistani border region.... (more)
RELATED ARTICLES
Pakistan-Afghanistan Conflicts Continue
Karzai, Musharraf Spar Ahead Of Bush Meeting
Musharraf Says Taliban Could Spark Pashtun 'National War'
Afghan Minister Attacks Pakistani Support For 'Terrorism'
Historical Context Of Afghan-Pakistani Relations
Afghanistan/Pakistan: 'Inseparable Twins' In Need Of Separation
ARCHIVE
RFE/RL
coverage of Afghanistan
. RFE/RL
coverage of Pakistan
.
SUBSCRIBE
For weekly news and analysis on Afghanistan by e-mail,
subscribe to "RFE/RL Afghanistan Report."