An army spokesman says Pakistani helicopters fired missiles at the madrasah, in the semi-autonomous tribal region of Bajaur near the border with Afghanistan.
The spokesman for Pakistan's military forces, Major General Shaukat Sultan, said the attack by Pakistani helicopter gunships destroyed the madrasah compound and killed almost everyone inside.
'Terrorist Training'
"We had intelligence that a madrasah in the tribal region of Bajaur was being used for wrongdoing," Sultan said. "According to our information, there were 70 to 80 militants in this madrasah who were training and were learning terrorist tactics. We have been observing them for many days. When we confirmed the information that training for terrorist activities was going on there, our security forces responded with this attack today."
"This latest attack on an [alleged] Taliban center -- a madrasah --
occurs at a time when negotiations for a peace council between the
Taliban and the Pakistani government are under way."
Sultan said that up to 80 suspected militants were killed. He said military officials do not think any prominent militants were in the compound when it was attacked.
But security officials in Islamabad claim that the pro-Taliban commander who ran the madrasah, Maulana Liaqatullah, was among the dead.
Mohammad Salim, an independent journalist from Pakistan, told RFE/RL today that he also has information that the pro-Taliban commander was killed. "According to my sources, there were 83 people studying in this madrasah," he said. "In this place, [pro-Taliban commander] Maulana Liaqatullah and about 80 others were killed. Two or three people were injured."
Heavy Damage
Correspondents in the Bajaur region report that residents have been collecting bodies from the rubble of the madrasah compound -- including children as young as 6 years old. Those reports say most of the bodies have been burned or mutilated beyond recognition.
A woman who lives in the area told RFE/RL's Radio Free Afghanistan that the first missiles were fired just before dawn. "It was actually about 20 minutes before five o'clock when three missiles were fired," she said. "And later, we saw helicopters flying over the area along the border of Afghanistan and Pakistan."
A mountainous region that is difficult to access, Bajaur lies opposite Afghanistan's eastern province of Konar, where U.S. troops are leading the hunt for Al-Qaeda and Taliban fighters.
Radio Free Afghanistan correspondent Najib Aamir noted that today's strikes were not the first such attack by Pakistani aircraft in the area.
"One year ago, the Damadola village of the Bajaur region was targeted by Pakistani forces who, at the time, assumed that senior Al-Qaeda leader Ayman al-Zawahri was hiding in this area," Aamir said. "This latest attack on an [alleged] Taliban center -- a madrasah -- occurs at a time when negotiations for a peace council between the Taliban and the Pakistani government are under way."
Still A Haven?
Local clerics say they think the talks between tribal elders and militants to reach a peace deal similar to one reached earlier this year in North Waziristan now appear to have failed.
Pakistan's lawless tribal belt on the Afghan border has been a haven for Islamist militants for decades. A large number of Al-Qaeda and Taliban guerrillas are thought to be sheltering there since fleeing the U.S.-led hunt for them in Afghanistan after the terrorist attacks of September 11, 2001.
Today's attack came two days after some 3,000 militants held a rally in nearby Khar, chanting slogans in support of Al-Qaeda leader Osama bin Laden and Taliban chief Mullah Mohammad Omar.
(RFE/RL's Radio Free Afghanistan correspondent Najib Aamir contributed to this report from Peshawar, Pakistan, and RFE/RL correspondent Ron Synovitz contributed from Prague)
Afghanistan And Pakistan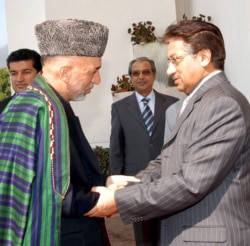 Afghan President Hamid Karzai (left) with Pakistani President Pervez Musharraf in Islamabad in October 2005 (epa)

ACROSS A DIFFICULT BORDER. The contested border between Pakistan and Afghanistan is some 2,500 kilometers long and runs through some of the most rugged, inhospitable territory on Earth. Controlling that border and preventing Taliban militants from using Pakistan as a staging ground for attacks in Afghanistan is an essential part of the U.S.-led international coalition's strategy for stabilizing Afghanistan. Officials in Kabul have been pointing their fingers at Pakistan for some time, accusing Islamabad or intelligence services of turning a blind eye to cross-border terrorism targeting the Afghan central government. Many observers remain convinced that much of the former Taliban regime's leadership -- along with leaders of Al-Qaeda -- are operating in the lawless Afghan-Pakistani border region.... (more)
RELATED ARTICLES
Pakistan-Afghanistan Conflicts Continue
Karzai, Musharraf Spar Ahead Of Bush Meeting
Musharraf Says Taliban Could Spark Pashtun 'National War'
Afghan Minister Attacks Pakistani Support For 'Terrorism'
Historical Context Of Afghan-Pakistani Relations
Afghanistan/Pakistan: 'Inseparable Twins' In Need Of Separation
ARCHIVE
RFE/RL
coverage of Afghanistan
. RFE/RL
coverage of Pakistan
.
SUBSCRIBE
For weekly news and analysis on Afghanistan by e-mail,
subscribe to "RFE/RL Afghanistan Report."