Pakistan, Afghanistan To Hold Security Talks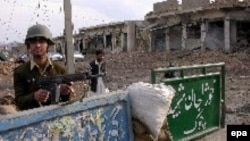 A Pakistani soldier patrols in Waziristan, near the border with Afghanistan (file photo) (epa) December 7, 2006 -- Pakistani Foreign Minister Khurshid Kasuri will arrive in Kabul for security talks today.
The visit comes amid accusations from senior Afghan intelligence officials Islamabad still supports the Taliban and warnings from Kabul's Western allies that the rebels are being bolstered by the ability to shelter in Pakistan.
The two countries have agreed on tribal councils, or jirgas, of community leaders from each country to find a solution to the violence.
However, commentators say there are differences on who should sit on these councils.
Afghanistan wants all tribes to take part in the councils, not just the Pashtuns from the main Pakistani border areas.
Some Afghan and Pakistani leaders say elements of the Taliban must be included if there is to be any peace.
Kabul wants Afghan President Hamid Karzai and Pakistan's President Pervez Musharraf to lead the first jirga, but no time or place has been set.
(Reuters)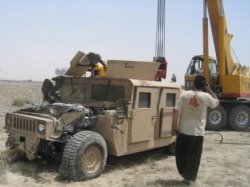 A U.S. military vehicle damaged by insurgents near Kandahar (epa)
HOMEGROWN OR IMPORTED? As attacks against Afghan and international forces continue relentlessly, RFE/RL hosted a briefing to discuss the nature of the Afghan insurgency. The discussion featured Marvin Weinbaum, professor emeritus of political science at the University of Illinois at Urbana-Champaign, and RFE/RL Afghanistan analyst Amin Tarzi.
LISTEN
Listen to the entire briefing (about 83 minutes):
Real Audio
Windows Media
ARCHIVE
RFE/RL's
coverage of Afghanistan
.
SUBSCRIBE
For weekly news and analysis on Afghanistan by e-mail,
subscribe to "RFE/RL Afghanistan Report."