Musharraf Proposes Muslim Peacekeeping Force For Iraq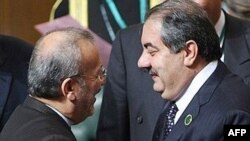 Foreign ministers from Iran (left) and Iraq are among those attending the Islamabad meeting (AFP) May 15, 2007 -- Pakistani President Pervez Musharraf has proposed sending a Muslim peacekeeping force to Iraq to help stem violence there.
"The mass killing that taking place, the carnage that is taking place there has to stop," Musharraf said at the start of a meeting of foreign ministers from the Organization of Islamic Conference in Islamabad.
"If all the warring factions, different factions in Iraq, if they accept, then maybe a Muslim peacekeeping force under the United Nations umbrella could be looked at, if that leads to peace and resolution of the crisis."
Participants are due to discuss ways to combat Islamophobia as well as a new charter for the 57-member organization.
Some 600 delegates are expected to attend the three-day meeting.
(Reuters, AP)

SUBSCRIBE For weekly news and analysis on Iraq by e-mail,
subscribe to "RFE/RL Iraq Report."