Red Cross Announces Massive Iraq Aid Increase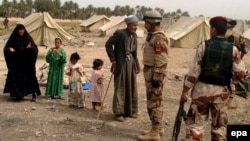 Displaced Iraqis in Ba'qubah (file photo) (epa) May 7, 2007 -- The International Committee of the Red Cross (ICRC) has announced a massive increase in its aid operations in Iraq.
The ICRC said it planned to expand operations along with the Iraqi Red Crescent to reach some 660,000 displaced people, about twice as many as before.
The Geneva-based organization said it is seeking $30 million to fund the expansion of its relief work in Iraq.
(AFP, AP)