Thousands In Pakistan Protest Media Restrictions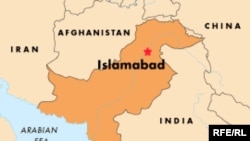 (RFE/RL) June 7, 2007 -- Thousands of Pakistani lawyers and opposition activists have rallied to protest tough restrictions on the media imposed by President Pervez Musharraf amid a political crisis.
Today's protests in Lahore and several other cities went ahead even though the government earlier this week suspended the introduction of the restrictions.
European Union representatives in Islamabad today issued a statement expressing concern about what they called "recent setbacks with regard to media freedom, in particular reports about blocked transmissions of licenced cable TV stations and about cases of intimidation of journalists."
The protests were the latest in a series of antigovernment rallies since mid-March, when Musharraf suspended the country's top judge, sparking a political crisis.
(AFP, dpa)