But Ghazi appears as fervent as ever. In a statement carried by Pakistan's major newspapers on July 8, he refused any surrender or concession to the government, saying he did not fear death. Ghazi said the holdouts inside the mosque believe Allah is on their side and that if their blood is shed, it "will lead to a
Earlier, Ghazi spoke to reporters by telephone from inside the besieged compound, laying the blame for any deaths on the government.
"We, all our martyrs and those who are going to be martyred here, would ask you on Judgment Day, are you responsible for the killing of our students," he said. "We all would ask you that: why did you kill us, for what sin?"
Since the seizure of his brother, Abdul Aziz, by police last week, Ghazi -- the deputy head cleric of Islamabad's Red Mosque -- has become the leader of the rebellion inside the compound.
A Middle-Class Radical
Ghazi's father, Maulana Abdullah, was head cleric of the Red Mosque. Abdullah preached jihad but in the 1980s, with the mujahedin fighting the Soviets in neighboring Afghanistan, that was part of the ruling ideology.
And indeed, the Red Mosque had close links to the top political circles in Islamabad. Army chiefs, ministers, and presidents went there to pray.
The young Ghazi received a typical upper-middle-class education. He graduated from the prestigious Quaid-e-Azam University and joined the Education Ministry as a junior civil servant.
But Abdullah's assassination in 1998 by a gunman from a rival Islamist sect propelled Ghazi and his brother into leadership positions at the mosque. The assassination also pushed the two brothers toward Islamic radicalism.
They made links with many of the leaders of the current Al-Qaeda, including Osama bin Laden.
And they turned the Red Mosque and its two affiliated madrassahs, or religious schools, into a center of radicalism.
Cleaning Up The Streets
That radicalism further intensified following the September 11, 2001 terrorist attacks against the United States and Washington's toppling of the Taliban in Afghanistan.
Following Pakistani President Pervez Musharraf's support of the U.S.-led war on terror, calls for his assassination began to be made from within the mosque.
At the same time, Ghazi and Aziz -- the mosque's head cleric -- began to challenge the government's control over public order in Pakistan's showcase capital.
They sent armed seminary students on vigilante anti-vice missions, during which they sometimes kidnapped police officers and alleged prostitutes. They also raided music shops and cinemas.
The authorities issued a warrant for Ghazi's arrest but made few moves to detain him until this latest standoff.
The government's new tough stance has won it praise among members of Islamabad's middle-class.
But Ghazi's defiance has won him new converts around the country. Some 20,000 tribesmen, including hundreds of masked militants wielding assault rifles, demonstrated in the northwest region of Bajur today, chanting "Death To Musharraf!" and "Death To America!"
Who Speaks For Islam?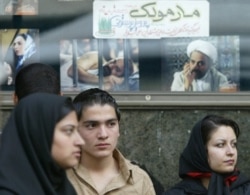 Young Muslims at a movie theater in Tehran (AFP file photo)


CROSS-CULTURAL DIALOGUE: On June 13, RFE/RL hosted a roundtable discussion entitled "Who Speaks For Islam?" The event was hosted by U.S. Undersecretary of State for Public Diplomacy and Public Affairs Karen Hughes and featured scholars of Islam from the United States, Europe, and the Middle East.
LISTEN
Listen to the entire briefing (about 2 hours and 15 minutes):

Real Audio
Windows Media
RELATED ARTICLES
Undersecretary Of State Pushes For More Interfaith Dialogue
Prominent Western Muslim Rejects 'Clash Of Civilizations' Idea
Scholar Warns Europe Of 'Clash Within Civilization'
Antiterrorism Battle Can't Be Won Without Full Muslim Involvement

A thematic webpage devoted to issues of religious tolerance in RFE/RL's broadcast region and around the globe.