Brigadier General Kevin Bergner said 26 leaders of Al-Qaeda in Iraq had been killed or captured in operations in May and June across the country.
"Over the past two months our collective efforts against the Al-Qaeda leadership have begun to disrupt their networks and safe havens," he told a news conference. "We fully expect Al-Qaeda in Iraq operatives to lash out and stage spectacular attacks to reassert themselves."
Bergner said Al-Qaeda was the principal threat and destabilizing factor targeting the government of Iraq and their security forces.
"Our intelligence community, the government of Iraq, and the multinational force all assess Al-Qaeda in Iraq as the main near-term threat," he said. "Al-Qaeda in Iraq is a network led and fueled by foreign extremists who envision a new caliphate."
He said the group was bringing in 60 to 80 foreigners to Iraq every month, and that up to 90 percent of the suicide attacks in Iraq were being carried out by foreign-born Al-Qaeda terrorists.
He said the group had killed and wounded some 4,000 people in the past six months.
Bergner's comments come as Iraq's Interior Ministry announced police had found 200 suicide belts and packs of explosives in a truck traveling from Syria.
In fresh violence on July 11, gunmen killed at least 11 people when they locked them inside a house west of Baghdad then blew it up.

Iraqi police also said they found 30 bodies on the streets of Baghdad the same day.

In Berlin, German Foreign Minister Frank-Walter Steinmeier said a German woman who was kidnapped by militants in Iraq in February had been freed but her son remained in captivity.
(Reuters, AFP)
Iraqi Insurgent Media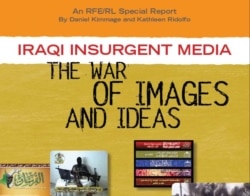 GETTING THE MESSAGE OUT. RFE/RL analysts Daniel Kimmage and Kathleen Ridolfo have produced a book-length study on the media efforts of the insurgency in Iraq and on how global jihadists are exploiting those efforts to spread their destructive message around the world....(more)
DOWNLOAD
(pdf format):
Part One Part Two Part Three Part Four Part Five



THE COMPLETE STORY: RFE/RL's complete coverage of events in Iraq and that country's ongoing transition.