Meanwhile, reports from Iran say the country's judiciary has launched a probe into the judge who ordered that Jafar Kiani be stoned to death.
The grim sentence of Jafar Kiani has prompted a wave of international condemnation and also reactions by human-rights activists and others inside Iran.
Rights activists believe that in order to prevent such incidents in the future and to root out stoning in Iran the sentence should be removed from Iranian laws.
Kiani was stoned to death on July 5 in a small village in northern Iran. He had been convicted of adultery and had spent the past 11 years in prison.
UN Condemnation
Many have described his stoning as "inhumane" and "barbaric."
UN human rights chief Louise Arbour condemned the execution, saying that "stoning is in clear violation of international law." She called on Iran to stop the stoning of Kiani's partner, Mokarameh Ebrahimi, who is reportedly in jail with the couple's two children.
A top dissident cleric in Iran told Radio Farda that Kiani's stoning was carried out against Islamic principles.
According to Islamic laws applied in Iran, the punishment for adultery is death by stoning. It is allowed to be proved through evidence such as a confession or a "judge's knowledge."
Ayatollah Hossein Ali Montazeri, who is a prominent Iranian source of emulation, said in a written statement faxed in response to an inquiry by Radio Farda that adultery is very difficult to prove under Islamic laws. He says adultery can be proven only if it is witnessed by four people who had seen the act with their own eyes, adding that such a thing is almost impossible.
Damaging Islam's Reputation?
Montazeri also writes that if the accused retracts his or her confession then that person should be able to go free.
He adds that if "at a certain time and location" the implementation of the sentence would damage Islam's reputation then it should be prevented. The dissident ayatollah added that, in fact, stoning sentences are a tool to create fear and prevent people from committing sin.
Kiani's stoning was carried out despite a reported 2002 moratorium on stoning by the head of Iran's judiciary, Mahmud Hashemi Shahrudi.
His execution also came two weeks after international and domestic pressure made local officials delay carrying out the sentence against him and his partner, Ebrahimi.
Ebrahimi's sentence has reportedly been suspended.
Judge Investigated
On July 11, Iran's ISNA news agency quoted an unnamed official from the judiciary as saying that the judges' disciplinary court will investigate the action carried out by the local judge, which was contrary to the order of judiciary chief Shahrudi.
Rights activists believe that in order to prevent such incidents in the future and to root out stoning in Iran the sentence should be removed from Iranian laws.
Among them is Iranian Nobel Peace Prize winner Shirin Ebadi, who in an interview with Radio Farda expressed serious concern over the stoning of Kiani.
"We've been telling the judiciary for years now that if the respected head of the judiciary is against carrying out stoning sentences then the solution is very simple: he should write two sentences, propose it as a law to the parliament and -- since the parliament is totally on his side -- it will adopt it," she said.
But the judiciary has so far ignored such demands and activists say in the past five years stoning sentences have been issued to alleged adulterers. One case of a stoning of a man and a woman was reported in 2006.
Online Reaction
Kiani's stoning has also led to strong reactions among visitors to the Radio Farda website.
Mohammad Bagher Abbasi from Bushehr writes that proving that adultery has taken place is "impossible" under Islamic laws. Therefore, he said, whenever someone is executed by stoning there should be no doubt that Islam was not respected.
Mohammad from Esfahan believes that the implementation of Islamic sentences can prevent evil and mischief.
An unnamed visitor has written that Kiani's stoning proves that Iranian "mullahs" are worse than Taliban members and that if they are not confronted they could ban women from studying.
Kamran from Tehran describes stoning as inhumane and cruel, yet he adds that the leaders of Iran should be stoned because he believes "they are infected with sin."
Most of the visitors have, however, written in their postings that the practice of stoning does not belong in today's world.
(Radio Farda contributed to this report.)
Women In Iran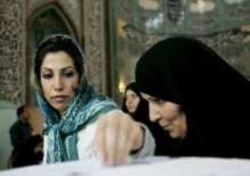 Women in Tehran (epa file photo)

CALLING FOR MORE RIGHTS: Although women played key roles in Iran's 1979 Islamic Revolution, the place of women in post-revolutionary society has been a vexing question. Iranian women have struggled to bring attention to their calls for greater rights in their country's rigid theocratic system, calls that have often clashed with the values proclaimed by conservatives in society. (more)
RELATED ARTICLES
Tehran Police Renew Campaign To Combat 'Un-Islamic' Dress
Iranian Peace Prize Laureate Shirin Ebadi On Women's Rights
Activists Concerned About Self-Immolation Of Iranian-Kurdish Women
The Younger Generation's 'Tehran Blues'
ARCHIVE
RFE/RL's coverage of Iran. RFE/RL's coverage of issues concerning women throughout our broadcast area.

SUBSCRIBE
For a regular review of civil-society developments throughout RFE/RL's broadcast region, subscribe to "RFE/RL (Un)Civil Societies."